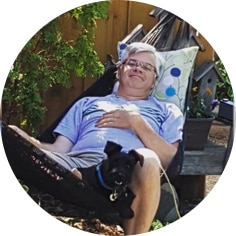 It is with great sorrow that the family of Kerry Joseph DePape announce his sudden and unexpected passing on Saturday, June 1st, 2019.  
Kerry was born July 11th, 1963 in Gainsborough, SK to Joe and Elaine (Putland) DePape.  He was the proud older brother to Taylore, Amber and Lorelei. When Kerry was 5 the family moved to Churchbridge, SK where he took all of his schooling, graduating in 1981.  This is where he met the love of his life, Cheryl Thies. After graduation, he moved to Moose Jaw, SK to attend the Saskatchewan Technical Institute where he received his diploma in Architectural Engineering Technology.  Kerry started at RL Cushing Millwork on June 6th, 1984 as an Estimator, and then Project Manager.  Following the retirement of Kerry's mentor Bob Wood in 2005, Kerry and Kelly Staples ran Cushing Millwork together until Kelly's retirement in 2018.  At this time Kerry became President of the company. His employees and their work were always top of his mind and Kerry was very proud of their projects including the Canadian Embassy apartments in Japan, Dr. FH Wigmore Regional Hospital, and most recently the Jim Pattison Children's Hospital.  Kerry firmly believed in contributing to the betterment of his industry and served 8 years as National Director for the Architectural Woodwork Manufacturers Association of Canada as well as many years with the Saskatchewan Chapter. At the time of his passing he was the Chairman of the Manual Committee developing the North American Architectural Woodwork Standards.  It was through this association that Kerry and Cheryl went on many trips seeing the sights of Canada and have many strong friendships in their AWMAC family.
Kerry and Cheryl were married on August 4th, 1984 in Churchbridge and made their home in Moose Jaw.  They were blessed with three children: Lauren, Alyssa and Grayson.  Kerry was very involved in his children's activities, from doing the girl's hair for dance when Cheryl was at work, coaching Grayson in basketball, and attending all the theatre productions, band concerts and music recitals that all the kids were involved in.  The family took many vacations together and the girls treated Kerry to many musical sing a longs on their road trips which he eventually grew to tolerate.
Cheryl always had many visions for their home and yard and Kerry always lovingly obliged, perhaps with an eye roll but you could be guaranteed he took Cheryl's ideas and took it up a notch, far beyond Cheryl's expectations.  It didn't matter if he was working with wood, renos or landscaping, Kerry was a skilled craftsman.
Besides his family, his next love would be the Saskatchewan Roughriders (as long as Rod Black wasn't commentating) and spending time with their close friends Ken and Angela McDougall with a good rum.  Many wonderful memories were created on the "DeDougall" family vacations.
Kerry's pride and joy was his grandson Leo!  Leo's love for his Papa was unmatched and squeals and giggles emerged the moment Papa came through the door.  
A man of faith, Kerry was a member of Emmanuel Lutheran Church, serving the Lord through work on many committees, and as President, Elder and sound man.  He was a member of the Building committee that coordinated the fundraising and building of the Church on Paul Drive. Kerry designed the church building and built the altar furnishings.  
He was predeceased by his grandparents: George and Lucile Putland, Mary and Frank DePape; and nephew, Joshua Thies.  Kerry leaves to mourn his wife of nearly 35 years, Cheryl; children: Lauren (Jordan) Gottselig and Leo, Alyssa (Justin Wilk), and Grayson; parents, Joe and Elaine DePape of Churchbridge; sisters: Taylore DePape, Cassedi, Blade and Orion – Stony Plain, AB; Amber (Kelly) Palmer – Churchbridge, SK; Justin (Keri) Racquel and Easton – Camrose, AB; Amanda (Justin) Kornaga, Joe and Heath – Churchbridge, SK; Lorelei (Dwain) Pulock, Chantelle and Shaelynn – Saskatoon, SK; in-laws, Wilfred and Doreen Thies; brothers-in-law: Russell (Lorie) Thies – Churchbridge, SK, Nick (Kelsey), Sawyer, Luke; Jeff (Valerie) Thies, Mitchell and Daniel – Cochrane, AB; sister-in-law, Gaylene (Chip) Putland – Churchbridge, SK, Thomas, Austin and Hannah; as well as many aunts, uncles and cousins.     
The Funeral Service will be held on Saturday, June 8th, 2019 at 2:00 p.m. in Emmanuel Lutheran Church, 15 Paul Dr, Moose Jaw, SK with Reverend John Kreutwieser officiating.  In lieu of flowers, memorial tributes may be made to the Riverside Mission, 40 Manitoba St E, Moose Jaw SK S6H 0A2 or the Peacock Centennial Auditorium renewal fundraiser at newseats.ca.  Arrangements are entrusted to Moose Jaw Funeral Home, 268 Mulberry Lane. Gary McDowell, Funeral Director 306-693-4550