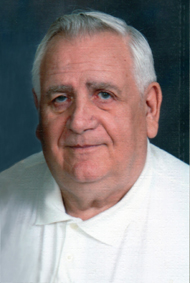 George Francis Denet, aged 82 years of Moose Jaw, SK passed away Tuesday, February 16th, 2021.  George was born March 18th, 1938 at Whitewood, SK.  After receiving his education in Whitewood, he moved to Calgary, AB and then returned back to Moose Jaw where he has resided until his passing.  George worked for the City of Moose Jaw from 1971 until retirement.  He married Dian Jones on July 2nd, 1960 and together they raised 2 sons.  George loved music, playing both the Guitar and Mandolin, and also singing with family and friends.  He was a member of Emmanuel Lutheran Church, where he also sang in the choir.  Family was important to George.  He enjoyed a good joke and story, having a special way of telling both.  
He was predeceased by his parents, Alma and Frank; and brothers: Carl, Arnold, and Lorne.  George will be lovingly remembered by his wife of 60 years, Dian; sons, Sheldon (Darlene) and Darrell (Cheryl); grandchildren: Kristan (Jon), Courtney (Myles), Troy, Taylor (Derek), and Payton (Maclean); great-grandchildren: Conner, Onyx, and Coen; sister, Elaine; sister-in-law, Elvie; as well as numerous other relatives.  
The family would like to thank all of the staff at Pioneers Lodge for the wonderful care of George.  Also to the EMS, and to the doctors, nurses and staff at the Dr. F.H. Wigmore Regional Hospital.
A Private Family Service will be held at a later date.  Flowers are gratefully declined.  As an expression of sympathy, donations in George's name may be made to the Moose Jaw Health Foundation, 55 Diefenbaker Drive, Moose Jaw, SK S6J 0C2.  Arrangements are entrusted to Moose Jaw Funeral Home, 268 Mulberry Lane.  Todd Sjoberg, Funeral Director 306-693-4550