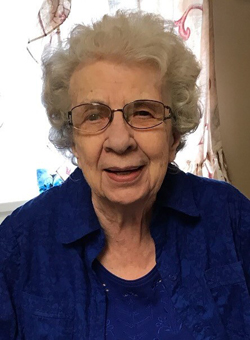 Leona Demyen (née: Andert), aged 92 years of Moose Jaw, SK passed away on Monday, May 3rd, 2021.  She was predeceased by her husband, Alex (1990); her parents; brother, Edgar; sister, Agnes; as well as several sisters and brothers-in-law.  Leona will be lovingly remembered by her daughter, Donna; son, Dave (Wanda); grandchildren: Mark (Becky), Matthew (Kimberly), Dylan, and Carley; great-grandchildren: Lucas, Sela, and Olivia; several nieces and nephews; family friend, Barb; as well as many friends made over the years.  
Leona was married with 2 children when she began her career in 1963 as a Special Care Aide at Extendicare in Moose Jaw.  In the beginning she didn't know how long she might work there.  When her husband Alex passed away in 1990, besides several trips to visit family in Winnipeg, Edmonton and the Penticton area, her work became a big part of her life.  Leona retired in 2001 after 37 years.  Wow!  The Emmanuel Lutheran Church was also a big part of Leona's life.  She made many friends both there and at her job.  She was a very caring, loving, hard-working lady who enjoyed her life and loved her friends very much.  She will be very happy to join her husband Alex again.  May she rest in peace after a life well lived.  She will be missed by many!
A heartfelt thank you to the wonderful staff at Extendicare in Moose Jaw for the loving care they provided for Leona in the 2 years she lived there.  May God bless you all!
A Private Family Service will be held at a later date.  In honour of Leona, let us spread love and kindness to all!  Arrangements are entrusted to Moose Jaw Funeral Home, 268 Mulberry Lane.  Michelle Ellis, Funeral Director 306-693-4550