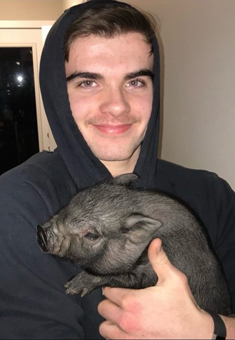 It is with broken hearts and tear-filled eyes that we announce the unexpected passing of our much beloved Carter Jarett Deitz, at the tender age of just 17 years.  Too wonderful for this world, Carter (aka 'Squirmy') bravely left us on Monday, November 8th, 2021.
Born on July 8th, 2004 in Moose Jaw, SK, Carter definitely did not have the easiest go in life and often struggled with the effects of that.  However, Carter showed tremendous courage and determination throughout it all.  He was the most beautiful of souls, enduring so much so innocently and so quietly on his own.  Carter had a very special love of animals, especially for his pet pigs and his dog, Lucky.  His greatest passion was hockey, but he also enjoyed playing video games, camping, working on the farm and working on his car 'The Old Girl'.  Carter's hilarious and unique sense of humour will truly be missed.
Carter was attending his senior year of high school and had dreams of becoming a heavy duty mechanic.  Although his time here was short, the imprint he left on our hearts far exceeds the quantity of time he spent here on earth.  It is our greatest wish that Carter has finally found the peace, happiness and joy that he could never quite find here on earth, yet truly deserved.
Forever 17, Carter will be deeply, deeply missed and cherished by his mother, Michelle Duzan; loving father & best friend, Jarett (Courtney) Deitz; brothers, Kaden Deitz and Tayvin Deitz; step-brother, Hunter Stewart; step-sisters, Hailey Stewart and Hannah Stewart; grandparents, Dale and Wendy Duzan; grandmother, Noreen Wells; great-grandpa, Mervin Erickson; very special uncles: Dalton (Sara) Duzan (Rene Lewko), Derek (Amy) Duzan, and Randy Deitz; aunty, Jaycee Deitz; as well as numerous loving cousins.
A Celebration of Carter's Life will be held on Tuesday, November 23rd, 2021 at 3:00 p.m. at Moose Jaw Funeral Home with Celebrant Dave Foley officiating.  Dress as you are comfortable, jeans and cowboy boots are welcomed.
Rest in Peace Squirmy. You will always be our Sunshine ❤
Arrangements are entrusted to Moose Jaw Funeral Home, 268 Mulberry Lane.  Michelle Ellis, Funeral Director 306-693-4550