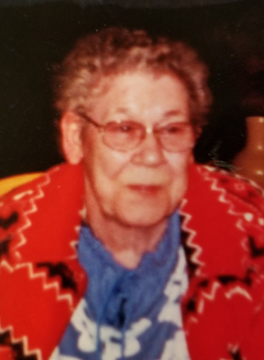 Rosetta Rhoda Deichert aged 89 years of Moose Jaw, SK, passed away Friday, March 10th, 2023.  Rosetta was born in Paddockwood, SK.  She loved the country life and looked after her two brothers on the farm.
Rosetta married Ferdinand Deichert and during their 60 happy years together, the lived in British Columbia and Saskatchewan.  She cherished spending time with her family and loved to cook for them.  She also enjoyed visiting with her neighbours.  You would also find Rosetta in her garden, tending to her vegetables and roses.
She was predeceased by her husband, Fred and son, Barry.  Rosetta will be lovingly remembered by her daughter, Sharon; and her grandchildren, nieces, and nephews.  
A Graveside Service will be held on Saturday, March 25th, 2023 at 1:00 p.m. in Sunset Cemetery with Pastor Marvin Seaborg officiating.  As an expression of sympathy, donations in Rosetta's name may be made to Parkinson Canada, 2103 Airport Dr #110B, Saskatoon, SK S7L 6W2.  Arrangements are entrusted to Moose Jaw Funeral Home, 268 Mulberry Lane.  Andrew Pratt Funeral Director 306-693-4550