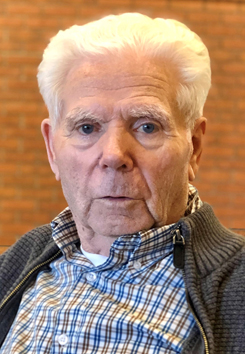 It is with saddened hearts that we announce the passing of Vittorio DeGirolamo of Moose Jaw, SK on Thursday, March 3rd, 2022, 19 days before his 91st birthday.  Vittorio was born in Santo Stefano, Italy.  He was predeceased by his wife, Maria DeGirolamo (Salerno); parents, Mickelina and Carmine; brother, Giuseppe; and sisters, Giuseppina and Anna.  He immigrated to Canada with his family in 1958.  Vittorio leaves behind his brother, Antonio (Maria); daughter, Mickelina (Andrew); sons, Carmine (Colleen) and Ferdinando (Anna); grandchildren: Jared (Alison), Jenna (Brian), Nicolas (Danika), Daniel, Cassandra, Julia, and Alex; great-grandchildren: Paxton, Carter, Sawyer, Rosalie, and another on the way; as well as many nieces and nephews here and in Italy.
As new immigrants to Saskatchewan times were tough, but with the help of friends and family, they formed a close knit Italian community and raised wonderful families.  Vittorio worked at various jobs such as construction and meat packing, but most of his work-life was with the railway as a section man at CP Rail.  As time went on he built a cabin at Buffalo Pound Lake, purchased a boat, and found his passion – fishing, although he couldn't catch near as much fish as Maria, an argument that continues in Heaven.  However, his (and Maria's) true calling was gardening, they could make anything grow.  They were organic before organic was a thing.  And the results were a grand harvest of tomatoes, peas, potatoes, lettuce, and zucchini's the size of baseball bats.  
For all who knew Vittorio, he was polite, down to earth and enjoyed making conversation, and if you were lucky enough, be invited over for a drink of his homemade wine.  He was very inventive, hands-on, and could fix most anything.  He enjoyed his last years at Providence Place.  Many thanks to the staff who took great care of him and kept a smile on his face to the end.
A Memorial Service to honour Vittorio will be held at a later date.  As an expression of sympathy, donations in Vittorio's name may be made to Providence Place Foundation Inc, 100 – 2nd Ave NE, Moose Jaw, SK S6H 1B8.  Arrangements are entrusted to Moose Jaw Funeral Home, 268 Mulberry Lane.  Andrew Pratt Funeral Director 306-693-4550