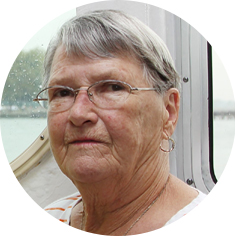 December 27th, 1939 – November 3rd, 2020
Bettye Rae Day passed away on Tuesday November 3rd, 2020 at the Dr. F.H. Wigmore Regional Hospital at the age of 80 years.
Bettye was born in Moose Jaw, SK and received her education at Empire Elementary and then Peacock Technical High School in Moose Jaw.  After that, she took her nursing education and graduated as a Licensed Practical Nurse.  She worked at a number of different Saskatchewan hospitals, including Swift Current, where she met her husband Wayne Day.  Bettye married Wayne in Moose Jaw where they eventually settled and raised their two children, Brenda and Scott.
Bettye worked for many years at the Union Hospital, mainly in the Operating Room.  After she helped her daughter with childcare so that Brenda could graduate as a Registered Nurse, Bettye fulfilled her own dream of becoming a Registered Nurse, graduating from Kelsey Institute in Saskatoon, SK.  She returned to the Union Hospital to work in Emergency and finished her career there as the Director of Central Supply.  She worked past the age of 65 and when people asked her why she didn't retire earlier, she always said she loved the work, the people she worked with, and the patients she worked for.
Bettye and Wayne lived for many years on Brenda and Larry's farm southwest of Moose Jaw.  They enjoyed the winters in Weslaco, Texas for over 20 years, where they had good times and good friends.  She lived the last year at Mulberry Estates where she enjoyed the activities and Happy Hour with the friends she had made there.  She loved to travel and managed to see a large part of the world.  She convinced Wayne to go with her to Venezuela where they went ziplining and parasailing.  Together with her daughter, she traveled to the Dominican Republic, Cuba, Mexico, Hawaii, New York and many other parts of the United States and Canada.  One of the highlights of her life was when she accompanied her sister Carole on a 6 week trip to Australia.  She was a savvy user of the Air Miles program and one of the last things she did was to use them to fly her son Scott home to spend time with her in her final days.
Bettye could never be still.  She was always at her grandkids and great-grandkids dancing and sports events.  She was one of 3 nurses who produced a fashion show starring the nursing staff and physicians modeling clothes from Moose Jaw businesses.  That was a fundraiser for the Moose Jaw Union Hospital for a number of years.  She volunteered at the Union Hospital and the Dr. F.H. Wigmore Regional Hospital, and with the SCRAPS program, enjoying working at the store with the other volunteers.  She loved animals and throughout her life had many special cats, dogs and horses.
Bettye was a true cancer warrior.  She battled cancer starting in her 20's and up until the day she died from Non- Hodgkin's Lymphoma. 
She was predeceased by her parents, Edward and Lillian Reader; brother, Charles Reader; sister, Marguerite Bristow; father-in-law, Leonard Day; mother-in-law, Ethel Day; Ethel's second husband, Leonard Kitchen; as well as a number of sisters and brothers-in-law, nieces and nephews.  Bettye is survived by her husband, Wayne Day; daughter, Brenda Bumphrey (Larry); son, Scott Day (Vanessa); 6 grandchildren and 10 great-grandchildren; sisters: Glenda Hennenfent, Carole Reader,Frances Avery, and Lynda Eldstrom; brother, Gerry Reader; brother-in-law, Morley Day; sister-in-law, Audrey Day and their families.
The family wishes to thank the Pasqua Hospital and Allan Blair Cancer Clinic physicians and staff, mom's special friend Noreen (Andy) Pasiuk, who sat with her for many hours while she received chemotherapy, the doctors, nurses and support staff at the Dr. F.H. Wigmore Regional Hospital in Moose Jaw, and Dr. Ramadan and Dr. Kerrie Hetherington for their professional and kind care.
Due to Covid-19 restrictions, there will be no Funeral Service at this time.  A Graveside Service will be held at Rosedale Cemetery in July 2021 for family and friends, details to be announced at a later date.  As well, in keeping with Bettye's wishes, a private memorial will take place at Brenda and Larry's farm where she had so many happy memories.
In lieu of flowers, donations in Bettye's name may be made to the Allan Blair Cancer Centre c/o Pasqua Hospital, 4101 Dewdney Ave, Regina, SK S4T 7T1, where the physicians and staff looked after her so well, or SCRAPS, PO Box 1653, Moose Jaw, SK S6H 7K7.
We will miss her so much, but are happy that she is no longer in pain.
"Those we love don't go away, they walk beside us every day.
Unseen, unheard, but always near, so loved,
so missed, so very dear."
(Author Unknown)
Arrangements are entrusted to Moose Jaw Funeral Home, 268 Mulberry Lane.  Todd Sjoberg, Funeral Director 306-693-4550