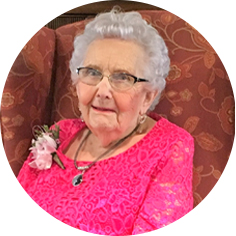 Aletha Evelyn Davis, aged 97 years of Moose Jaw, SK passed away on Tuesday, November 19th, 2019.  Aletha was born in Mawer, SK on April 22nd, 1922, the 5th child of Joseph and Florence Nouch. 
Aletha's younger years growing up in Mawer were busy with school and church activities.  She took part in school plays, choir, playing the piano and singing.  She played some sports but said she was never very good at any of them.  As a teenager she attended local dances with her sister and friends.  Aletha always talked about the beautiful dresses her Mother made for her and her sisters.  She said they were the best dressed girls in town, so her wonderful fashion sense began at an early age. 
During her high school years Aletha began seeing John Beck.  John joined the service and Aletha went to Normal school to become a teacher.  She married John on June 20th, 1942 and 5 months later he went overseas and was killed in action.  She continued to teach at Wilson Hill School.
Following the war Aletha went to a dance with her sister Mary and met a young man named Robert Davis.  They were married on March 14th, 1946.  She moved to the farm near Riverhurst, SK where she had to adapt to living in the country and being a farmer's wife.
Aletha and Robert later moved to town and she became involved in the community while raising 4 children.  She taught kindergarten in her basement, taught Sunday School, 4-H & CGIT.  She belonged to the UCW, Co-op Ladies Guild and the Legion Auxiliary.  She was involved in all the activities of our family as well.  
Aletha and Robert moved to Moose Jaw in 1967 and she again became involved in the community.  They had a cabin at Buffalo Pound Lake and later a mobile home at Diefenbaker Lake, and our family enjoyed many good times at these summer homes. 
Aletha and Robert also had several travel trailers, a motorhome, and travelled in Canada and the U.S.  They began spending the winters in Mesa, AZ and enjoyed a busy social life, golfing, dancing and Happy Hours with friends and neighbours. 
They sold their home and lived in several apartments before moving into "The Bentley".  Aletha continued to live there after Robert's passing following 64 years of marriage.  She continued to be involved at The Bentley, singing in the choir, painting, crafts, attending church, playing bingo and rummoli.  She loved to shop and enjoyed her weekly outing with Crystal for lunch and shopping.  Right up until her passing, Aletha was always dressed in bright, colourful, perfectly coordinated outfits which everyone admired.
The most important thing in Aletha's life was her family.  She was interested in all the activities of each and every one of us and did a pretty good job of keeping track of each of us.  She was proud of everyone's accomplishments and took every opportunity to brag about them.  Her apartment was overflowing with pictures of all of her family.  She loved the visits from her family and extended family.
Aletha spent the last several months of her life at Chateau St. Michael's, where she was able to receive more care.
She was predeceased by her husband, Robert; daughter, Margaret; and all of her siblings and their spouses.  Aletha is survived by her children: Deanna (Trevor), Crystal (Garry), and Monty; son-in-law, Paul; grandchildren: Audra (Darren), Jeffrey (Rhonda), Ryan (Deanne), Sheena (Ryan), Cody (Reanna) and Nora; great-grandchildren: Jade, Brandon, Hunter, Reid, Chase, Carter, Makenzie, AJ, Josh, Hudson, Bailey and Braelyn; as well as several nieces and nephews.  A Private Family Interment will be held at Central Butte Cemetery.  As an expression of sympathy, memorial donations in Aletha's name may be made to Transition House, Box 1866, Moose Jaw, SK S6H 7N6, Ronald McDonald House, 1101 University Dr, Saskatoon, SK S7N OK4 or to a charity of one's choice.  Arrangements are entrusted to Moose Jaw Funeral Home, 268 Mulberry Lane.  James Murdock, Funeral Director 306-693-4550