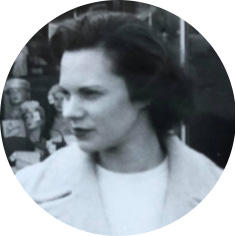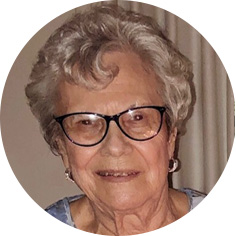 OLIVE PEARL DALGARNO (née: JOHNS)
It is with very heavy hearts that the family of Olive Dalgarno announce her sudden passing on Sunday, May 31st, 2020 at the Dr. F.H. Wigmore Regional Hospital in Moose Jaw, SK.  She passed away peacefully with her children by her side.
Olive was the youngest of 5 children born to C. Kenneth and Bertha Johns on September 11th, 1933 in Redvers, SK.  She was predeceased by her husband, Edgar in 2010; her parents; four older brothers: Donald (Marion), Thomas (Edith), Bernie (Maggie), and Stanley (Sylvia); two brothers-in-law: Sandy (Verna) and Lloyd (Joyce); son-in-law, Doug McKay; and grandson, Christopher Sauder.  Olive will be forever remembered and dearly missed by her children and their families: daughter, Gaye McKay, Dustin (Kahina), Lucas (Kathleen), Kasey (Carson) and their son Bowen; son, Kim Dalgarno (Leanne), Ryan, Kyle, Chance (Savana) and their children Braxton and Kenzie; daughter, Tammy Keane (Mike), Jackson, Olivia (Hayden); as well as numerous nieces and nephews.  Olive will be greatly missed by many old friends, as well as her Mulberry family.
Olive grew up on the family farm outside of Redvers.  After graduating high school at 16 years old, Olive headed to Moose Jaw to attend Normal School.  By age 17 she began her teaching career at Postville School, a one room school house.  While teaching in this community Olive met her husband, Edgar Dalgarno.
Edgar and Olive were married in July of 1956, settling onto their family farm outside of Moose Jaw where they raised their three children.  While their kids were in school, Olive began substitute teaching and Edgar farmed the land.  When her kids were young, Olive enjoyed spending numerous summers with family friends at Buffalo Pound Lake, where they made many lasting memories.  Olive and Edgar lived on the farm until 2008 when they moved into town.  In 2017 Olive moved into the Mulberry Estates, where she resided until her passing.
Family meant the world to Olive.  She adored her grandchildren more than anything and spent many hours cheering them on in hockey, baseball, basketball, figure skating, lacrosse, school plays, concerts and anything else she could support them in.  Olive and Edgar also enjoyed travelling to many cities following their son-in-law Mike's NHL career and visiting Jackson and Olivia.  Olive was the ultimate babysitter and leaves the kids with special memories of sleepovers at the farm, making ice cream floats, and visiting parks.  While living downtown, grandma loved to set up a lunch time smorgasbord for the kids, their friends, and whoever was hungry.  It wasn't only her own grandkids who recognized her as Super Grandma.  Olive will be forever missed, loved, and remembered by so many people whose lives she has impacted.
Our family would like to extend our heartfelt gratitude and thanks to all of the staff at the Mulberry, the Moose Jaw EMS, Emergency Room Doctors and Nurses, and the Nurses on the Medical Unit for their compassionate care in this difficult time.
A Private Family Graveside Service will be held at Sunset Cemetery with Pastor Marvin Seaborg officiating.  As an expression of sympathy, donations in Olive's name may be made to the Moose Jaw Health Foundation, 55 Diefenbaker Drive, Moose Jaw, SK S6J 0C2.  Arrangements are entrusted to Moose Jaw Funeral Home, 268 Mulberry Lane.  James Murdock, Funeral Director 306-693-4550.