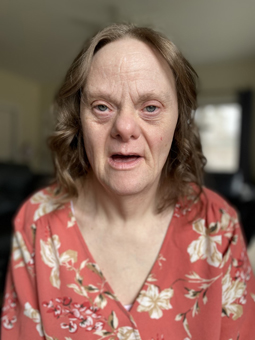 Ms. Linda Mae Dahl was born on April 11, 1961, in the Swift Current Union Hospital. It was evident from her birth that Linda would not have a conventionally easy life as she was born with a developmental disability.
Growing up Linda loved her "day-day's" and would play for hours with them. She loved catalogs and after a time would rip the pages out. Linda developed a keen love of music from her sister Patricia.
Linda attended a special school in Swift Current, and this meant that Linda lived with her mother in Swift Current during her informative years, and her father and siblings remained in Kyle to maintain their livelihood.  There came a time in 1978, when Linda's mother could no longer physically care for Linda. With much guilt , Linda transitioned to the Valley View Center, in Moose Jaw Saskatchewan, where she dwelt with her housemates until May 2017, at which time she transitioned to live her final days with Christian Horizons in the Iroquois home.
Christian Horizons' memories of Linda include, her smile, her laughter, and her tenacious spirit.  She knew what she wanted and had no reservation to also inform us when she was not interested in choices offered to her.  Although Linda did not communicate with words, this never deterred her from demonstrating her unique and individualized self-directed desires. 
There was a warmth that Linda demonstrated with her housemates, and staff who engaged with her. She had a gift of freely demonstrating joy, and contentment.  This divinely granted gift was shared freely, and provided permission for others who encountered her, to also feel joy and contentment.  You could witness housemates experience moments of frustration or fear… enter Linda on the scene; her joy and contentment was gifted to other to experience peace, resulting in no further need for staff intervention.  
Linda enjoyed simplicity in activities outside the home.  Feeding the ducks at Crescent Park, going for ice cream with friends and always willing to grace others with her smile and laughter when attending community events.  
Linda was also very close to her two sisters Pat and Judy.  Their visits to the home which morphed into phone calls, and facetimes over the past COVID season, consistently made Linda smile and become much more engaged in her surroundings.
The last days when her health took a turn for the worse, Judy and Pat made every effort, with the assistance of staff and the aid of technology, to be present with Linda bedside in the hospital.
Linda was reunited with her mom and dad in heaven on December 2, 2021. Her passing leaves a void in all who were blessed to walk alongside her. Linda's sisters, her housemates, former VVC staff and Linda's direct support staff all count it joy that we had opportunity to know and serve Linda.
Linda was predeceased by her father Peter Dahl in 1978 and her mother Marie Dahl in 1993.
Linda leaves behind her sister Patricia Nordsveen of Swift Current, 2 nephews, David in Moscow Russia and Chris in Calgary Alberta. Also her sister Judy Dahl in Edmonton, Alberta. And a very special caregiver, Ms. Haley Hills.
Linda's sisters are planning a Celebration of Life Ceremony to be held in Moose Jaw sometime early 2022. Linda will be laid to rest in the Cadillac cemetery, where her mother and father are interred. Those so wishing to make a donation in Linda's name, may do so to the Christian Horizons Care Home, 180 Iroquois Street West, Moose Jaw, SK, S6H 5A7.  Arrangements are entrusted to Moose Jaw Funeral Home, 268 Mulberry Lane.  Todd Sjoberg, Funeral Director 306-693-4550