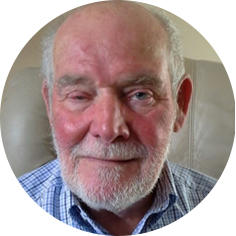 James Arthur Cruickshanks
May 20th, 1939 – July 07th, 2020

Mr. James Arthur Cruickshanks, late of Moose Jaw, SK peacefully passed away on Tuesday, July 7th, 2020 with members of his family by his side. 
He was a loving husband of 40 years to Mary and will be deeply missed by her and his stepchildren: Ian Walker (Darlene), Kevin Walker (Wanda) and Cindy Walker; grandchildren: Trevor, Shaun and Karly Walker; and three great-grandchildren.
James was born on May 20th, 1939 in Orpington, England to Cecil and Edith Cruickshanks.  He was predeceased by his parents, and brothers Alan and Robert, but leaves behind many who adored him.
He will be missed by his brothers: George, Richard, and Phillip in Canada, along with brothers, William and Eric, and sisters: Ivy, Margaret, and Janet in England.  He is mourned by many nieces, nephews, and extended family, including life-long best friend, John Neale (Pat).
James was called to service in Britain from 1958 to 1964 and was commended for his integrity and honesty.  He immigrated to Canada in 1978, proudly obtaining his Canadian Citizenship in 1988.
James and his wife Mary lived in various cities across three Western Canada provinces and he contributed to each's betterment.  In Abbotsford BC, he served members and veterans as President of the Royal Canadian Legion Branch #15.  In Kelowna BC, he stood for workplace equity and worker safety as a representative of I.W.A. Local 1- 423.  Lastly, in Moose Jaw, James brightened the lives of veterans, elderly in care and children in day cares and hospital in his voluntary role as Santa during the Christmas season.
A Celebration of James' Life will be held on Saturday, August 15th, 2020 at 1:00 p.m. in the Royal Canadian Legion, 268 High St W, Moose Jaw, SK.  Those attending are asked to follow the recommended Covid-19 precautions.  As an expression of sympathy, donations in James' memory may be directed to the Royal Canadian Legion Branch #59, 268 High St W, Moose Jaw, SK S6H 1S8 or the Poppy Fund at www.legion.ca.  Arrangements are entrusted to Moose Jaw Funeral Home, 268 Mulberry Lane.  Gary McDowell, Funeral Director 306-693-4550.
_______________________________________________________________