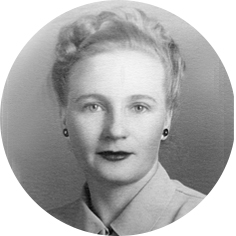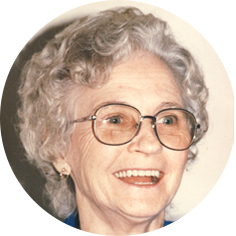 Ruby Viola Cross (Baragar)
Ruby Viola Cross (Baragar) passed away peacefully at Extendicare in Moose Jaw on Monday, October 1, 2018 with her family at her side. She was 96 years old.
She was born on October 12, 1921 on the family homestead in the Rural Municipality of Mankota in the district of Reliance, southwest Saskatchewan.
She is predeceased by her husband Walter Irvin Cross, her parents, Elizabeth (Best) and Bidwell Baragar, and siblings Joseph, Robert, Wes, Sarah, Irene, Edna, Gordon, Albert, Elsie, and Don.
She is lovingly remembered and deeply missed by her sister Anne and brother Kel; three children: Nora Will (Gordon), Millie Wright (Bill), and David Cross (Mary); eight grandchildren: Joanne Will (Andy), Janice Hayden (Brent), Janelle Baerg (Larry), James Will, Glenon Wright, Jerilee Wright, Damon Cross (Ivana), Logan Cross (Jenna); and ten great-grandchildren.
Eighth of 13 children, her jovial and close-knit family survived the drought and dust of the Great Depression. Strength and survival became enduring themes for Ruby Viola Baragar, who, on July 11, 1946 married Walter Cross. They moved to Toronto where Walter found work with the provincial government, and where her sister Sarah also lived. In Toronto her children Nora Jean, David William and Millicent Viola were born. But, at age 29, she was so ill and emaciated after the birth of her second child that she was advised to make arrangements for her children's care upon her impending death. Then, an eleventh-hour biopsy and diagnosis of Celiac Disease at Toronto General Hospital saved her life. With dietary changes she regained her health and strength.
Toronto is also where Ruby took her first cake decorating lesson, and it was quickly evident just how adept she was at the culinary arts. In March of 1956, along with their Wiener dog Buddy, Ruby, Walter and their young family moved back to Saskatchewan. They settled at her husband's father's farm between Aneroid and Ponteix. There Walter worked on the farm, and Ruby kept an enormous garden, chickens, and livestock, producing and preserving the food that sustained the family year-round.
Five years later, when Ruby's father-in-law retired and sold the farm, she and Walter moved to Moose Jaw. There Ruby, who was a talented seamstress from a young age, worked at the Moose Jaw Union Hospital, and later at St. Anthony's Home of the Sisters of Providence of Saint Vincent de Paul for the aged and the poor, from which she retired at age 65 in 1986.
At age 50 she learned to drive, and bought her first car, a burnt-orange Ford Maverick coupe. Throughout her working years in Moose Jaw and much of her retirement, she continued her professional cake decorating on evenings and weekends, delighting untold numbers with her holiday, birthday and elaborate wedding cakes.  
She made incredible Halloween costumes for her grandchildren, as well as holiday cakes and chocolates for them to share with their school classmates. Her Christmas fruit cakes, elegantly and elaborately decorated — one for each household in her family — were eagerly anticipated every festive season. In doing this, she carried on a 100-year tradition started by her parents, and today it is continued by her granddaughter Janice.
When her husband Walter was diagnosed with Alzheimer's Disease in the 1980s, Ruby lovingly cared for him until his death in 1995. In 2011, at age 89, she was diagnosed with breast cancer. Once again, she recovered.
Over the years, Ruby said that in 1950 she had dreamed of an angel at her bedside at Toronto General Hospital, who told her then that she had work to do and her time on earth was not yet finished. That angel has now returned to take her home. It is difficult to imagine a woman stronger, more resilient, more joyful, more loving — or more missed and loved.
A Memorial Service and Celebration of Her Life will be held Saturday, October 6 at 9:30 AM at Moose Jaw Funeral Home, 268 Mulberry Lane, Moose Jaw, SK. with Pastor Walter Engel officiating.  Interment will take place at Sunset Cemetery. Those wishing to make a donation in Ruby's name may do so to the Moose Jaw and District Food Bank 305 Fairford St. W Moose Jaw, SK  S6H 1V8 , The Canadian Cancer Society 1910 McIntyre St Regina, SK S4P 2R3  or a charity of their choice.
Arrangements are entrusted to Moose Jaw Funeral Home, 268 Mulberry Lane.  Michelle Surtees Funeral Director 306-693-4550