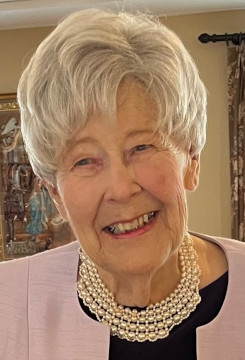 Bernice Ella Crosbie aged 90 years of Moose Jaw and formerly of the Caron District, SK, passed away on Friday, September 29th, 2023.  Bernice was born in Willmar, SK on November 9th, 1932, the youngest daughter of John and Ella Ziehkle.  She was predeceased by her husband, Wilfred; brothers, Ralph and Paul; and sisters: Alice, Louise, and Ruth.  Bernice will be sadly missed and lovingly remembered by her children: Brenda (Gary) Dougherty, Wayne (Brenda), Blaine (Karla), and Neil (BJ); grandchildren: Jared (Nicole) Dougherty, Regan (Matthew) Bell, Carrie Morrison, Tara Morrison, Courtney Carter (Shea Evans), Shelby (Iain) MacDonald, Blake Crosbie, Graeme (Chloe) Crosbie, Ian (Nicole) Crosbie, Eric (Annissa) Crosbie, and Nadine Crosbie; great-grandchildren: Lochlan, Kalem, Joel, Caleb, Evelyn, Arthur, Wyatt, Lilly, Kade, Elle, Sawyer, Anna, and Adeline; brother-in-law, Dave Crosbie; as well as numerous nieces and nephews.
Bernice started her teaching career at the age of 16, then attended Normal School in Moose Jaw.  She taught at Caron School where she met and married Wilf on July 17th, 1954.  She took a hiatus in teaching to raise a young family, working alongside Wilf milking cows and driving grain truck.  She furthered her education, getting her teaching degree by correspondence, and then taught in Moose Jaw in special education, and finished her career in Mortlach.  Wilf and Bernice retired in Moose Jaw where Bernice followed her passion as a volunteer with Heritage Moose Jaw and the Moose Jaw Art Museum.  She received the Moose Jaw Volunteer Award in 2006, as well as the Queen Elizabeth II Diamond Jubilee Medal in 2012.  She was also a proud member of the Royal Canadian Legion, both in the Caron and Moose Jaw branches.
Bernice was an avid reader, loved her garden, and enjoyed many trips to the US and abroad.  Undoubtedly her greatest accomplishment was her family, who brought her much pride.  Her great-grandchildren were a particular joy.
Bernice enjoyed the past six years at Points West (formerly The Caleb) and the family would like to thank the staff and residents who became part of her family.  The family would also like to acknowledge the excellent care Bernice received during the last two weeks at the Dr. F.H. Wigmore Regional Hospital and Providence Place.  
The Funeral Service will be held on Tuesday, October 10th, 2023 at 1:30 p.m. in Moose Jaw Funeral Home.  Pastor Marvin Seaborg will officiate and a private family interment will take place in Caron Cemetery.  Those not able to attend may view the service virtually by going to www.moosejawfuneralhome.com/webcast/.  As an expression of sympathy and in lieu of flowers, donations in Bernice's name may be made to the Moose Jaw Health Foundation, 55 Diefenbaker Drive, Moose Jaw, SK S6J 0C2.  Arrangements are entrusted to Moose Jaw Funeral Home, 268 Mulberry Lane.  Andrew Pratt, Funeral Director 306-693-4550