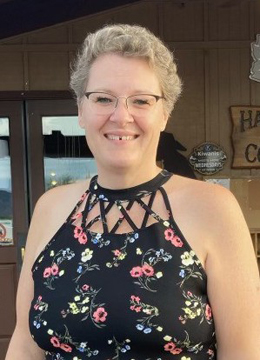 TAMMIE DELEE CRONE (née: Benson)
It is with profound sadness that we announce the passing of Tammie Delee Crone, our beloved wife, mother, grandmother, daughter, and friend, on Thursday, August 17th, 2023 at the age of 52 years.
Tammie was born March 21st, 1971 to Jeannette and Roy Benson in Moose Jaw, Saskatchewan.  Tammie and her mother moved and lived in a lot of different places but ended back up in Moose Jaw to stay, where she went to Ross Elementary and Peacock Collegiate High School.
In January of 1988, Tammie met Vaughn and they soon to began dating, and were married within three years.  They were inseparable, each others best friends, each other's love of their life for 35 years.  She learned how to be a pig farmer and drive every piece of machinery on the family farm.  She looked after the yard and delivered endless meals in the field.  As the 4 kids came along, Tammie found a way to do it all, including teaching us how to work together and how to love each other at work.  Our family farm will not run the same without her but its continued success is because of what she taught us along the way.
Tammie's life revolved around family, faith, farming, friends, and basketball.  She wouldn't have had it any other way.  From coaching her kids at Lindale, starting the first girls club team out of Moose Jaw in years, coaching in the Moose Jaw Minor basketball league for many years, to sitting on the board as well, you would find Tammie everywhere and anywhere watching all of her kids playing basketball and being the best fan in the stands, with her big duffle bag full of noise makers and gear, and making everyone do the stomp, stomp, clap for their team.
Tammie and Vaughn have four amazing children: Kehlsie (Derek), Megan (Brendan), Braeden (Rachel), and Macaela (Tanner); and four adorable grandchildren: Braxtin, Macy, Nash, and Kaeson.  Tammie was so excited for grandbabies and loved them all so much, always making sure she had treats in the house for them and finding ways to make them laugh and smile.
She was predeceased by her father, Roy Benson; father-in-law, Arthur Crone; and mother-in-law, Martha Crone.  Tammie is survived by her husband, Vaughn; son, Braeden (Rachel); daughters: Kehlsie (Derek), Megan (Brendan), and Macaela (Tanner); mother, Jeannette Benson; brother, Kelly Benson; and sister, Shelly Fox.
We would like to express how grateful we are to Prairie Mobility for all of their help when mom became paralyzed – they went out of their way to help and do what was needed to get mom home.  We would also like to express our deepest gratitude for the amazing care mom was given by Home Care and the Pioneer Lodge staff, and her personal care aide Oliver Mutesi, who has become a part of our family.  They went out of their way to help and do what was needed and made her last days comfortable and filled with compassion and love.
A Celebration of Tammie's Life will be held on Tuesday, August 22nd, 2023 at 10:00 a.m. in St. Joseph's Roman Catholic Church, 1064 3rd Ave NW, Moose Jaw, SK.  Father Bert will be the presiding celebrant, assisted by Deacon Lamont Dyck, and interment will take place in Rosedale Cemetery.  Please wear your favorite jersey – no dressing up for Tammie, these are her wishes.  If you do not have a jersey, please wear green and/or orange.  In lieu of flowers, donations in Tammie's name may be made to Heartland Hospice Moose Jaw, Box 334, Moose Jaw, SK S6H 4N9.  E-transfers can be made to admin@heartlandhospicemj.ca.  Arrangements are entrusted to Moose Jaw Funeral Home, 268 Mulberry Lane.  Michelle Ellis, Funeral Director 306-693-4550