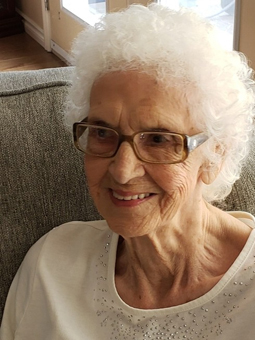 DOROTHY JEAN CRAIK (née: Sthamann)
Dorothy Jean Craik passed away peacefully, with her daughter by her side, at Pioneer Lodge in Moose Jaw, SK on Monday, July 12th, 2021, at the age of 93 years.
Dorothy was born in Hodgeville, SK and later moved to Kelvington – Round Lake, SK.  Her father passed away when she was young and she left home at the age of 17.  Dorothy moved to Yellow Grass, SK where she did housework, then moved to Moose Jaw where she worked at Swifts.  She candled eggs for four years until she married the love of her life, Murray Craik, in December 1949.  They had a daughter, Florence, in 1950 and a son, Jeffery, in 1955.  They bought a house on the 900 block of Athabasca St in 1955 and lived there until they moved to the Andross Condominiums in 1998.  Murray passed away in 2005 and Dorothy remained living at the condo until shortly before her passing.  Dorothy was always thinking of Murray, remembering vacations they took and sorely missed his love, laughter and advice.
Dorothy was in the Militia for more than 10 years in the 1960's and retired with the rank of Sargeant, which she was very proud of, as was all of her family.  She was a long-time member of the Army, Navy, Air Force Veterans, volunteering to call Bingo as well as other activities.
She was predeceased by her husband, Murray; parents, Marie and Herman Sthamann; and brother, Donald.  Dorothy is survived by her daughter, Florence (Clair) Hicks; son, Jefferey (Cathy); grandchildren: Austin Craik, Misty (Aaron) Brule, and Shane (Megan) Kennedy; great-grandchildren: Jensen and Ashton Brule, and Logan Kennedy; sisters, Edith Morley and Ellen Glennie; brother, Dan McConnell; as well as many nieces and nephews.  
The family would like to thank the Dr. F.H. Wigmore Regional Hospital and Pioneers Lodge for the excellent care given to Dorothy in her final days.  Also, thanks to Dr. Rininsland, Dr. Waldner and Dr. Pilon.  As well, thank you to Pat Gable for taking Mom to lunch every Tuesday, and her neighbours Iris Lewichew and Janet Geraghty for the coffee and friendship.
A Private Family Graveside Service will be held at Sunset Cemetery.  In lieu of flowers, donations in Dorothy's name may be made to the Alzheimer Association of Saskatchewan, 301 – 2550 – 12th Ave, Regina, SK S4P 3X1 or Cancer Foundation of Saskatchewan, 200-4545 Parliament Ave, Regina, SK S4W 0G3.  Arrangements are entrusted to Moose Jaw Funeral Home, 268 Mulberry Lane.  Gary McDowell, Funeral Director 306-693-4550