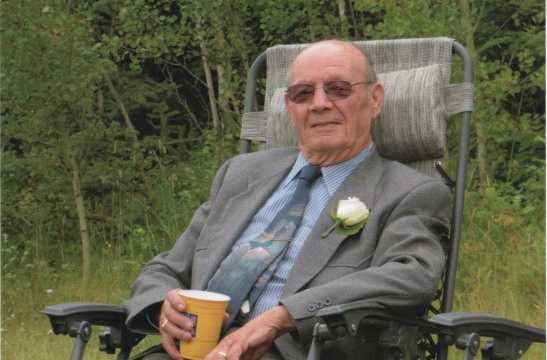 CRAIG, JOHN DOUGLAS "DOUG"
It is with great sadness that we share the passing of our beloved dad, Doug Craig on Tuesday, November 7th, 2023.  Doug was born to Elsie and Jack Craig on September 19th, 1929 in Congress, SK and was the youngest of their 9 children. 
Doug married Orla Haug in Mossbank, SK on August 5th, 1954 and they had 5 children – Cheryl, Robert, Denise, Laura and Stephen.
Doug was predeceased by Orla on August 15th, 2021 and infant grandson, Joshua Craig.  He was also predeceased by his parents, Jack and Elsie Craig; sisters, Ruth Whitaker (Doug) and Fern Tollefson (Roy); brothers: Elwood, Cleave (Dorothy), Charles (Rayma), Everett (Margie), Lawrence (Phyllis), and Ken (Jeanette); and in-laws: Joe and Sadie Haug, Harold Haug, and Iola (Allan) Robb.  Left to mourn are: Cheryl Olson (Dan), Aaron Olson (Leigh-Anne), Rainer, Piper, Cadence, and Jack, Travis Olson (Roxanne), Liam, Carys, and Leia, Naomi Olson, and Soren; Robert Craig (Roberta), Rebecca Craig, Stephanie Soroski (Matt), Kenley, Jacob, and Lennox; Denise McDonald (Ron), Mike McDonald (Shannon), Reg, and Louis, Barb Geddes (Stefan), Jackson, Dylan, and Jorja, Laura Duguid (Dave), Nolan Duguid (Janel), Ben, and Hayes, Matthew Duguid (Breanna Goertzen), Stephen Craig (Faye), Maritza, Hayleigh, and Colby; as well as many nieces, nephews, friends, and neighbours.
Doug treasured the people in his life, whether family, friends, or neighbours.  He made an effort to stay in touch, helped out when needed, and loved to have a visit, which he especially appreciated in his later years.  Nothing made him happier than a crowd of family or friends jammed cheek to cheek in the house visiting and eating, in fact sometimes he'd hum a little song to share his joy.  Doug could often be heard singing or humming in the kitchen while doing the dishes while the rest of us chatted and caught up with each other in the living room.
Doug worked for the Moose Jaw Public School Board for may years while farming at Mossbank.  He made life-long friends at the school board, but his true love was working on the farm.  He loved the farm and the chance to stay close to his family and friends in Mossbank.
The Funeral Service will be held on Monday, November 13th, 2023 at 1:30 p.m. in Moose Jaw Funeral Home.  Reverend Jeff Tank will officiate and interment will take place at Sunset Cemetery.  Those not able to attend may view the service virtually by going to www.moosejawfuneralhome.com/webcast/.  As an expression of sympathy, donations in Doug's name may be made to Parkinson's Canada, 4211 Yonge St, Suite 316, Toronto, ON M2P 2A9 The Moose Jaw Humane Society, Box 1658 Station Main, Moose Jaw, SK S6H 7K7 – he always loved dogs.  Arrangements are entrusted to Moose Jaw Funeral Home, 268 Mulberry Lane.  Gary McDowell, Funeral Director 306-693-4550