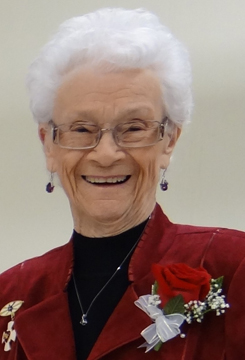 Olive Irene Coupland was born on February 5th, 1925 in Weyburn, SK and passed away peacefully on Friday, September 2nd, 2022 at the age of 97 years.
She was predeceased by her parents, John and Laura Meredith; brothers, Al and Jimmy; sister, Ada; and both her late husbands, Robert Larson (d.1974) and Hugh Coupland (d.2007).  Olive is survived by her son, Norm (Barb) Larson of Calgary, AB and children Erik (Allison), Kaia, Neva and Torunn, and Curtis of Calgary; son, Ken (Donna) Larson of Saskatoon, SK and Michael (Isabell) and children, Gwyneth, William of Mainz, Germany, and Mathew Larson of Weyburn, SK; and daughter, Cheryl (Willis) Cunningham of Moose Jaw and child Scott (Marisol) of Moose Jaw.
Olive was raised in Ceylon, SK and completed her public schooling there.  She then moved on to Teachers College to become a teacher.  She married Robert Larson in 1946 and moved to Saskatoon, SK.  Their first son Norman was born in 1948 and the family moved to Moose Jaw in 1949.  Olive taught school in Moose Jaw for a few years and then completed her family with another son Ken and daughter Cheryl.  Robert Larson passed away in 1974 and she married Hugh Coupland in 1975.
Olive was always active in the community, a member of the Olive Branch Rebekah Lodge and the Eastern Star Lodge.  She had a love for music and taught piano lessons for many years.  Olive was nominated as a Woman of Distinction in 2000 for her Community Work. In her later years she enjoyed visiting at various care and old age homes in Moose Jaw.  Her final five years were spent in Mulberry Estates enjoying football and curling on TV.
A Service of Remembrance will be held on Friday, September 16th, 2022 at 1:30 p.m. in Moose Jaw Funeral Home.  Reverend Tim Ellis will officiate and interment will take place at Rosedale Cemetery.  Those unable to attend may view the service virtually by going to www.moosejawfuneralhome.com/webcast/.  As an expression of sympathy, donations in Olive's name may be made to the Cancer Foundation of Saskatchewan, 200 – 4545 Parliament Ave, Regina, SK S4W 0G3.  Arrangements are entrusted to Moose Jaw Funeral Home, 268 Mulberry Lane.  Gary McDowell, Funeral Director 306-693-4550