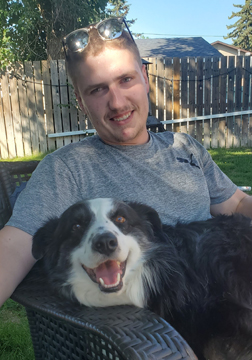 It is with overwhelming sadness that we announce the sudden and heart-breaking passing of Avery Alexander Costley.  Heaven gained a beautiful angel on Saturday, April 29th, 2023 when Avery lost his battle with addiction due to an accidental Fentanyl overdose.  
Avery was born on February 9th, 1995 to Jim and Nancy Costley in Moose Jaw, SK.  In his younger years, Avery grew up on a farm near Gravelbourg, SK before moving to Moose Jaw at the age of 4.  Avery loved the farm and growing up with his 3 siblings.  After moving, Avery was able to continue to spend time on both of his grandparents' farms where he made many memories.  In Moose Jaw Avery attended elementary school at St. Michael, and high school at Vanier Collegiate.  In tenth grade, at just 15 years old, he started dating Amy; they very quickly became each other's other half.  After high school, Avery went to work as a finishing carpenter with Breti Construction, and with time and hard work, he saved enough for a down payment on a house with his high school sweetheart.  The two of them moved to their perfect little bungalow on Grace Street, where they had planned to live happily ever after. 
Avery and Amy have always shared a love for animals, so just a month after moving into their new house, they adopted their first fur baby, a short-legged lab named Sadie.  Avery was the most amazing dog dad; so good, in fact, that Amy thought he would be an amazing cat dad as well.  One day, despite Avery thinking he didn't want a cat, Amy brought home a sweet kitten named Gus.  As expected, he fell head over heels in love with Gus, as well as all the other adorable fur babies that passed through their home (over 20 foster pets over the years).  They eventually formally adopted another cat, Harley, and 2 more dogs, Diego and Mandy.  Sadly, they lost their sweet Sadie in November of 2022.  Avery's love for animals emphasised his kind and selfless soul, he always said he could never trust people who don't like dogs, those people were not his people. 
In addition to his love for pets, Avery also had a few hobbies over the years.  In his younger years he was in a bowling league, as well as played football, which he continued into high school – with Amy as his cheerleader.  Avery also loved video games, cars, and motorcycles.  Avery owned almost every type of gaming system over the years, trading one for the next, but he never parted with his favourite games from his childhood on the Super Nintendo, N64, Wii, etc.  Amy wasn't quite as good at most video games, but, on a fun Friday night, you could catch the two of them enjoying a couple of drinks and playing Dance Dance Revolution – a favourite of Amy's, but still he seemed to be able to beat her. 
Along with trading up on gaming consoles, Avery did the same with vehicles.  In his 28 years of life, of which 12 of those he held a driver's licence, he owned 13 vehicles and 2 motorcycles.  He never seemed to like driving the same one for very long, so every few months, when he had saved enough money, he found himself a new vehicle to enjoy for a while.  Avery had obtained his learner's permit for his motorcycle and had planned to get his full licence, but unfortunately due to his untimely passing he was unable to fulfil that goal. 
Despite all the amazing people and joys in Avery's life, he struggled more than he would ever admit.  From childhood, right through to adulthood, Avery struggled with anxiety and depression.  In his early teens he unfortunately witnessed the traumatic death of his grandpa, who also struggled with addiction.  As his mental illness progressed, he experimented with a variety of medications; at times, these were the only things that would quiet his troubled mind.  With his mental illness and his family history of addiction, he eventually turned to street drugs, pulling him into a very dark place that wasn't meant for someone as amazing as him.  In the blink of an eye, his life was completely upside down as he and his family were forced to take on the true chaos that comes with battling addiction.  Thankfully throughout his journey, Avery had the pleasure of meeting many amazing professionals who rooted for him along the way, helping him and his family through some very difficult situations.  Without these individuals, he may not have made it as far as he did.
Avery was kind, thoughtful, hilarious, and an amazing husband, son, grandson, nephew, cousin, brother, friend, and fur dad.  He was so incredibly loved by everyone who knew him, and if love could have saved him, he'd still be with us today.  Despite all this love surrounding him, getting help was difficult.  Avery wasn't the first and won't be the last young person to senselessly lose their life.  We need to continue to advocate the need for better publicly funded mental health and addictions services and continue to work on breaking down the stigma associated with addiction.  Being open and honest about mental health allows others to feel safe to be open and honest as well.  You truly never know who's fighting a battle you know nothing about.  Avery's family and friends miss him dearly, but if this tragedy can save even one young life along the way, it will lessen the pain.
He was predeceased by his grandpa, Glen Miller; grandpa, Bill Costley; cousin, Cody Miller; and his fur child, Sadie.  Avery will be forever missed by his wife, Amy; parents, Jim and Nancy Costley; his grandmas, Ellen Costley and Paulette Miller; sisters, Brooke (Tyrel) and Jaimie; brother, Shay (Sandra); fur children: Gus, Diego, Harley, and Mandy; mother and father-in-law, Beth and Ron Jelinski; sister-in-law, Elyse (Garion) Carlson; niece and nephew, Anders and Elowen; best friends, Matt Mudry and Patrick Jablonowski; as well as his aunts, uncles, and cousins, and many other extended family.  
We would like to extend a huge thank you to the amazing healthcare workers who all did an amazing job in helping Avery and his family over the years.  Though the system is broken, there are still so many dedicated individuals who commit their lives to helping people like Avery, without bias or judgement.  These people include but are not limited to: the staff at Mental Health and Addictions Services, specifically Sara, Yvette, and Simone, Jim from Community Paramedics, Dr. Bortolotti, all of the wonderful staff at Wakamow Manor Social Detox and Calder Centre in Saskatoon, all of the amazing staff with Moose Jaw Police, Fire, and especially EMS, and many nurses in the emergency department at the Dr. F.H. Wigmore Regional Hospital.  Each of these people played a huge role in helping provide Avery with more time on this earth.  Please know that your amazing care never went unnoticed by Avery and his family.
The Funeral Service will be held on Friday, May 12th, 2023 at 1:00 p.m. in Moose Jaw Funeral Home with Pastor Larry Hasmatali officiating.  As Avery was not one to dress up, please dress as you feel comfortable.  As an expression of sympathy, donations in Avery's name may be made to The Moose Jaw Humane Society, Box 1658 Station Main, Moose Jaw, SK S6H 7K7.  Arrangements are entrusted to Moose Jaw Funeral Home, 268 Mulberry Lane.  Michelle Ellis, Funeral Director 306-693-4550