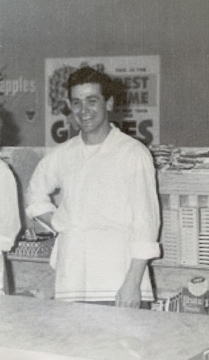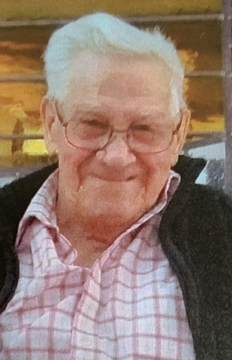 Patrick Ernest Cossette, aged 94 years of Moose Jaw, SK passed away peacefully on Thursday, July 28th, 2022 with his family by his side.  Patrick was born on January 9th, 1928 on a farm near Trewdale, SK to Emile and Lucia Cossette.  He grew up with his 15 brothers and sisters on his parents' farm in that area, attending Trewdale School for his education.
As a young man, Patrick worked on the farm and did many odd jobs in the community.  He married Lottie Moore of the Courval area in October 1948.  At the beginning of their marriage, Pat and Lottie lived and worked in Burdett, Alberta where Pat worked at the local John Deere dealership.  In 1952, Pat and Lottie moved back to Saskatchewan and purchased farmland in the Coderre area.  In 1961, they opened and ran a grocery store in Coderre for 3 years called Pat's Lucky Dollar.  As their family grew, Pat and Lottie farmed in the Coderre area until they retired from the farm in 1975, moving to Moose Jaw.  Patrick worked in the dry goods department at the Moose Jaw Co-op for several years after moving to Moose Jaw.
Patrick was very industrious and was a jack-of-all-trades.  He built several houses for his family over the years.  He was quite musical, enjoying singing, dancing and even being self-taught to play the guitar, violin, and piano.  He took pride in all of his work and was especially proud of winning the District 8 Family Farm Award that he and his family won in 1971.  
During their 66 years of marriage, Pat and Lottie raised 6 children, had 17 grandchildren and 23 great-grandchildren.  
Patrick was predeceased by his wife, Lottie; parents, Lucia and Emile; siblings: Blanche, Wilfred, Armand, Helene, Lorette, Roland, Victor, and Marie-Anne; and great-grandson, Austin.  Patrick is survived by his children: Adrian (Yvette) Cossette, Eugene (Beverly) Cossette, Barbara (Dallas) Glascock, Kathleen (Brian) Stroh, Annette (Victor) Jensen, and Christine (Leslie) Cossette; 17 grandchildren and 22 great-grandchildren; and siblings: Eudore (Ted), Maurice, Clarence (Butch), Claire, Marie, Delores and Noella.  
In keeping with Patrick's wishes, a Private Family Service will be held.  Flowers are gratefully declined.  As an expression of sympathy, donations in Patrick's name may be made to the Providence Place Foundation, 100 – 2nd Ave NE, Moose Jaw, SK S6H 1B8 or the Multiple Sclerosis Society of Canada, 150 Albert St, Regina, SK S5R 2N2.  Arrangements are entrusted to Moose Jaw Funeral Home, 268 Mulberry Lane.  Todd Sjoberg, Funeral Director 306-693-4550