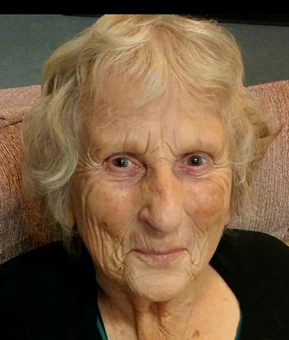 The family of Doris Joyce Coons is deeply saddened to announce her passing on Thursday, April 29th, 2021 in her home surrounded by loved ones with all six of her children present.  
Doris was born on the family farm also surrounded by loved ones in the Glen Adelaide district, Moose Mountain, SK on August 9th, 1932, the eighth of ten born to Maggie (Laing) and Ed Christopher.
Mom enjoyed her childhood on the farm and the time spent at Kenosee Lake which her grandfather, Fred Christopher was the first to develop as a tourist attraction when it was originally known as 'Fish Lake'.
She moved to Moose Jaw in 1952 where she met her first husband, George Tamko at the Temple Gardens Dance Hall.  They lived their life together on the farm in the Caron district where they raised their six children.
When farm responsibilities ceased, she returned to work at the new Town & Country Mall, Senior Citizen's Assistance Program and lastly, Chez Nous where she made lifetime friendships with some of the staff and residents.
With George's passing in 1991, she left Caron to retire in Moose Jaw, eventually meeting the second big love of her life, Ken Coons, whom she married in 1994.  Together they enjoyed the next few years exploring Canada and other countries to see family and friends.
Doris was an active member of the Fraternal Order of Rebekahs almost all of her adult life.  She made many friendships while working with others towards the common goal of Fellowship and making communities a better place to live.
She moved to the Timothy Eaton Center a few years after the loss of Ken and thrived in her new home filled with great friends, neighbors and the delicious meals prepared by Tina and Dave in the cafeteria.  She enjoyed all of the activities in the Eaton Center, especially the dances as one of her great passions was to dance.
Her greatest passion though, was her children and grandchildren, being part of anything and everything they were involved in.  Whether it was a sporting event, school play or just hanging out being part of their lives, she was everyone's number 1 cheerleader as we were hers.
Her passing has left a hole in our hearts and she will be greatly missed by her brother, Don Christopher; sister, May Hambleton; children: Joyce (Ken) Allen, Wendy Tamko, Ed Tamko, Judith Harden (Dave), Wanda (Wally) Jonas and Cynthia (Tim) Beaudin; grandchildren: Trent Scherer, Christina Lavoie, Renee Harrison, Trevor Tamko, Darla Huber, Sonny Tamko, Les Harden, Chris Harden, Travis Harden, Amber Wilk, Serina Calfas, Pat Jonas, DawnAnne Darroch, Erin DeRoose and Brook Foster; step children: Ken (Cathy) Coons, Louisa Coons, Denise (Bob) Cooke and Michelle (Richard) Morhart  as well as numerous step grandchildren, great-grandchildren and great-great grandchildren who loved their 'Gma Doris' deeply.
Mom lived her life with great strength, faith and dignity, always on her own terms and her own way right up until the end.
As a Family we give our love and thanks to her tight circle of Friends and Neighbors and also to the Doctors and Nurses who cared for her at the Dr. F.H Wigmore Regional Hospital.
Due to the restrictions regarding the current health situation, a Private Family Service will be held.  Friends and Family are invited to view the Celebration of Doris's life virtually on Monday, May 3rd, 2021 at 1:00 p.m. by going to www.moosejawfuneralhome.com/webcast/.  
As an expression of sympathy, donations in Doris's name may be made to a charity of one's choice.  Arrangements are entrusted to Moose Jaw Funeral Home, 268 Mulberry Lane.  Todd Sjoberg, Funeral Director 306-693-4550