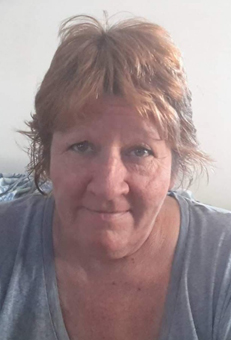 Heather Fay Connolly, aged 60 years of Moose Jaw, SK passed away on Monday, May 31st, 2021.  Heather was born and raised in Moose Jaw and attended Ross Elementary School.  Later in life, Heather and her partner Ron had 2 sons, Kelly and Cody.  She loved spending time with her boys and was so proud of each of them.  Heather was so happy when her son Cody married his wife Heather because she gained a daughter-in-law.  Over the years they have made some great memories together which Heather will hold in her heart forever.  One of the happiest moments of her life was when she found out that she was finally going to be a Grandma.  When little Zoey was born, Heather was right there smiling.  She was so happy and proud.  Zoey brought nothing but love and joy to her life.
Heather enjoyed being outdoors and when you came over for a visit, she was either in her pool or having a fire.  She also enjoyed attending trail rides back in the day and taking her horse out for a ride.  Sometimes on those rides, Heather would stop and see some family or friends.  She also enjoyed heading out to the lake with her best friend, Janet, and would often spend a few days there.  Her sister, Sandy, would come visit and they would relax in the pool and catch up on life.
Anyone that knew Heather knows that she was a Collie lover.  All of the dogs she had were Collies.  Heather's last dog Savannah was her best friend and they would sit up on the couch together or sit out by the fire until early morning.  That was true love.  Heather loved that dog so much that when she lost Savannah, she was so sad and lost.  Over the course of Heather's lifetime she had many different animals which included horses, goats, rabbits, dogs, cats, and fish.  
She was predeceased by her parents, Gordon and Katherine Connolly; brother, Allen; and partner, Ron Tribier.  Heather will be lovingly remembered by her sons, Kelly Tribier and Cody (Heather) Connolly; granddaughter, Zoey Connolly; brothers: Gordon (Karen) Connolly, Doug Connolly, Tim (Karen) Connolly, and Danny Connolly; sister, Sandra (Doug) Fryklund; aunt, Bev; several nieces, nephews and cousins as well as by her best friend, Janet Swayn.
In keeping with Heather's wishes, a Private Family Service will be held at a later date.  Arrangements are entrusted to Moose Jaw Funeral Home, 268 Mulberry Lane.  Michelle Ellis, Funeral Director 306-693-4550