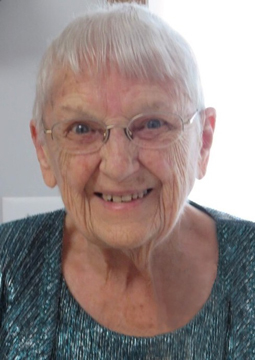 VIOLET CLOTHIER (née: Scott)
October 4th, 1928 – September 1st, 2023
Violet Clothier aged 94 years of Moose Jaw, SK, passed away Friday, September 1st, 2023.  Vi was born and raised in Moose Jaw, the youngest and last surviving sibling of 8 children.  As a young girl Vi participated in Girl Guides, attending Guide camps at Connors Park in Moose Jaw.  Later she joined CGIT, and at the time of her aging out, Vi was the provincial president of CGIT Saskatchewan. 
Vi became a teacher and taught at Newberry School just south of Moose Jaw.  It was at this time that she met Harold Clothier and fell in love with, as in her words, "Harold's strong singing voice".  One could hear him a mile away.  They were married October 11th, 1950.  Vi and Harold farmed together on the farm they called home, 7 miles south of Moose Jaw, where they raised their 4 children.
Vi was involved with the Baildon United Church, community ladies groups, and in later years after moving into Moose Jaw, Minto United Church.
She was predeceased by her parents, James and Mary Scott; husband, Harold Clothier; her 7 siblings and their spouses; son, Ian Clothier; and daughter, Esther Moen.  Vi is survived by her son, Raymond Clothier (Karen); daughter, Heather Johnson; daughter-in-law, Jane Clothier; son-in-law, Barry Moen; 14 grandchildren, 12 great-grandchildren, and 2 great-great-grandchildren; as well as many nieces and nephews who all will miss her very, very much.
A Celebration of Violet's Life will be held on Saturday, October 21st, 2023 at 2:00 p.m. at the Eagles Club, 561 Home St W, Moose Jaw, SK.  A private family interment will take place at Sunset Cemetery.  As an expression of sympathy, donations in Violet's name may be made to a charity of one's choice.  Arrangements are entrusted to Moose Jaw Funeral Home, 268 Mulberry Lane.  Michelle Ellis, Funeral Director 306-693-4550