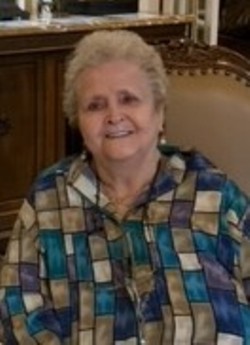 ANN CHURCH (née: Peacock)
Ann Rosalind Church (née: Peacock), aged 80 years of Moose Jaw, SK passed away on Friday, June 10th, 2022.
Ann was born in Chatham, Ontario on December 29th, 1941.  In 1942 the family moved to Moose Jaw and then in 1945 to Davidson, SK where the family bought a grocery store.  Ann grew up in Davidson.  While in school, she enjoyed many sports, receiving plaques, trophies and ribbons in such sports as track and field, softball, curling, bowling, swimming and figure skating.  Ann was very active in the community, a member of the figure skating club, and every year was a part of the ice show "The Rhythm Blades", which was excellent for all who took part.  She was also a majorette with the band, attended many community sports days, a member of the Merry Mixers Square Dance Club, and helped with the Past 40 Social Club.  Ann taught Sunday school for many years as well.
After school and on weekends, Ann worked in the family grocery and later worked there full time until the store was sold in 1974.  While in the grocery business, there were lots of floats made for the parades.  In the 1960's the Hawaiian Float was taken to Craik via the 3rd meridian.  The same float received honorable mention at the Travellers Day Parade.  Ann was also an instructor for the Weight Watchers organization.  
On July 10th, 1976, Ann married Bob Church and moved to Moose Jaw.  She was involved with visiting senior citizens and taking them out for rides, curling, bowling and going to the YMCA.  She was seasonally employed at the Town & Country Mall in Moose Jaw during the Christmas season as Mrs. Claus reading stories to the littles ones, and as the Easter Bunny handing out candy to children during the Easter season.  She was an avid fan of the Moose Jaw Warriors since day one in 1984, and was a volunteer driver taking people to Regina for appointments.
In 1995, Ann found her daughter Debbie that she relinquished to adoption in 1959.  When finding her daughter, she found out she also had a son-in-law Mark, a granddaughter Channon born in 1980, and a grandson Tyler born in 1993.  A great deal of her time during the summer months was spent at her cabin at Buffalo Pound Lake.  
In 2003 Ann had a year-long bout with cancer and treatments, only to come out a much better person as she realized how precious life really is.  We will never forget this lady who fought her illness with dignity and grace, and maintained her sense of humour and positive outlook on life to the end.
Ann enjoyed crafts of all types and as the festive seasons drew near, she was busy decorating both inside and outside of their home, inside and outside of her car, and herself for the seasons of snowmen, January, Valentine's Day, St. Patrick's Day, Easter Thanksgiving, Halloween, and last but not least Christmas.  In 1998 and 2004, Ann won the "Most Creative Decorated Home" in the Christmas Homes contest.  Ann was very creative for the millennium in 2000 and centennial in 2005.  Ann, a hard worker, organized a day-long celebration which ended with a fantastic fireworks display for the Resort Village of North Grove at Buffalo Pound Lake, where she was also on council for 6 years.  Ann's artistic talents, decorating skills, and eye for design were on display.
Ann had a great love for her purebred white toy poodles that she had over the years, which added much entertainment to her life.  She loved to travel and included all of Canada, most of the USA, Caribbean, Orient and Hawaii.
Ann had a difficult time accepting her physical limitations.  She was ready to help others and was a loving person.  She enjoyed life to the fullest, always had a mischievous twinkle in her eye, loved to tell jokes, and made people feel good and smile.
She was predeceased by her parents, Art and Cora Peacock; and sister, Joan Antoine.  Ann had a place in her heart for her husband, Bob; her Chihuahuas, Missy and Keyko; niece, Julie; Julie's husband, Kevin; great-niece and nephew, Brooke and Mason; nephew, Rick; daughter, Debbie; son-in-law, Mark; granddaughter, Channon and her husband Mark; great-granddaughter, Lucy; grandson, Tyler; and special friend, Jeanette Britton.
Our lives are indeed like pebbles tossed into a pond, leaving ever widening rings and ripples of influences long after the pebble has disappeared, the ripples continue.
The Funeral Service will be held on Thursday, June 16th, 2022 at 1:30 p.m. in Moose Jaw Funeral Home.  Pastor Doug Shepherd will officiate and interment will take place in Davidson Cemetery.  Those not able to attend are able to view the service virtually by going to www.moosejawfuneralhome.com/webcast/.  As an expression of sympathy, donations in Ann's name may be made to The Moose Jaw Humane Society, Box 1658 Station Main, Moose Jaw, SK S6H 7K7, Cancer Foundation of Saskatchewan, 200-4545 Parliament Ave, Regina, SK S4W 0G3, or a charity of one's choice.  Arrangements are entrusted to Moose Jaw Funeral Home, 268 Mulberry Lane.  Gary McDowell Funeral Director 306-693-4550