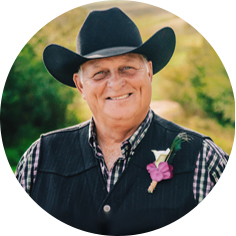 Lyle Jacob Christmann passed away peacefully at home, surrounded by family and friends, on Saturday, September 19th, 2020 at the age of 61 years.  The "Big Guy" was known for his huge heart, being a friend to all and his willingness to help anyone in need.  He had a passion for ranching and Sunrise Ranch was his absolute pride and joy.
Lyle was born on March 23rd, 1959 in Central Butte, SK to Margaret and Bernhart Christmann.  He grew up at the ranch with his older siblings Betty and Allan, and his younger brother Carl.  Lyle took a keen interest to the art of farming/ranching under his father's guidance that eventually lead to a partnership.  On April 8th, 1978, Lyle married his first wife Kathy (Noel) Christmann.  Together they created a family with the birth of Angela (1979), Ryan (1981), and Alison (1984).  Lyle and Kathy remained married for 30 years when they parted ways, but remained amicable to enjoy the marriage of their youngest daughter Alison, their grandchildren coming into the world, and shared holidays with the family they created.
In January 2009 Lyle met Jennifer Tonks, who shared his passion for ranching and the outdoors.  He found a true connection with Jennifer through day to day ranch life, hunting, traveling, and being with family.  Together they took an active role in the Herbert Stampede community.  Lyle endeavored to love and guide Jennifer's three children Chase, Micahyla, and Ayden Tonks as his own.  On August 24th, 2019 Lyle married Jennifer Tonks.  
Lyle fought a short but courageous battle with cancer and was predeceased by his parents, Margaret and Bernhart Christmann; brother, Allan Christmann; and father-in-law, Lou Tonks.  Lyle is survived by his wife, Jennifer Tonks and her three children: Chase Tonks (Brittany), Micahyla Tonks, and Ayden Tonks; his children: Angela Simoneau (Alain), Ryan Christmann (Amber), and Alison Busse (Paul) and their mother Kathy Christmann.  He was adored and treasured by his seven grandchildren: Mikayla, Tye, and Cord Christmann, Neva Simoneau, Anna and James Busse, and Sophia Tonks.  Lyle is also survived by his sister, Betty (Jim) Johnson, brother, Carl (Christina) Christmann, mother in law, Peggy Tonks; sister-in-law, Oneida Woidyla; as well as numerous aunts, uncles, nieces, nephews, cousins, and many close friends.
Due to restrictions from the current health situation, a Private Celebration of Life to honour Lyle will be held at a later date.  Arrangements are entrusted to Moose Jaw Funeral Home, 268 Mulberry Lane.  James Murdock, Funeral Director 306-693-4550