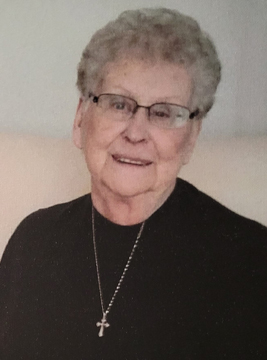 Shirley Constance Chilson
It is with heavy hearts we announce the passing of Shirley Constance Chilson aged 90 years of Moose Jaw, SK, on Saturday, April 29th, 2023.  
Shirley was born in Moose Jaw, SK and spent her years growing up in Briercrest, Buttress and Archive Districts in Saskatchewan.  She attended Red Lake School.
She was predeceased by her parents, Gladys and Stanley Robinson; brother, Donald and sister-in-law, Cathy Robinson; sisters, Dorothy Gunn and Merle Gough; husband, Gordon Chilson in 2007; special friend, Don Brown in 2016; and son, Blaine Hutchinson in 2020.  Shirley leaves behind her sister, Darlene Coburn of Winnipeg, MB; daughters: Deborah (Garry) Freeman and Peggy Hutchinson of Medicine Hat, AB, and Valerie (Allen) Gorin of Indian Head, SK; son, Kerry (Anita) Hutchinson; daughter-in-law, Lucy Winkler; grandchildren: Kimberley and Krista, Clint and Patti, Daniel, Nathan and Joshua, Kurtis, Kyle, Chery and Cody, and Brett and Adam; 22 great-grandchildren; numerous nieces and nephews; and her very special dog, Maggie.  
Mom, or Nannie as her grandkids called her, always loved having family and friends over for gatherings, whether it was birthdays, barbeques, or just because.  Her home was always filled with those she loved and there was never an end to the food!  She loved to cook and always had enough food to feed an army.  Her home was always the "go to" place for family functions with endless stories and laughter.  Mom had a sense of humor like no other and could easily have you in tears with all her antics and stories.
Shirley loved sitting on her patio, tending her flowers and garden.  She always had numerous garden ornaments around her yard and had the most beautiful flowers.  She had an endless love and affection for animals, especially dogs.  Shirley treated her "babies" like royalty, always spoiling them with treats.  Maggie was her special friend and was always at her side.
Shirley had many talents, from sewing, crafting, and painting.  She took up oil painting at the age of 80, but her passion was for cooking.  If her grandkids knew she was making rice pudding, they would ride their bikes to Nannie's to get some.  She also loved baking cookies with her grandkids.  In the early 80's, Shirley ran her own restaurant "Peg & Shirls" out of the Park Hotel.  She made the best soups, homemade cinnamon buns, and the best baked beans with so many crackers you knew for days the beans were still working.
Shirley was a very hard worker her entire life.  She was a very caring and compassionate person, always putting others before herself.  Many thanks to Dr. King for all her excellent and compassionate care, and to all the staff at Marcie's Private Care Home for the wonderful care you gave Mom while she was with you.
A Celebration of Shirley's Life will be held on Saturday, June 10th, 2023 at 11:00 a.m. in the Harvey Room at Moose Jaw Funeral Home.  In lieu of flowers, donations in Shirley's name may be made to The Moose Jaw Humane Society, Box 1658 Station Main, Moose Jaw, SK S6H 7K7 or SCRAPS, PO Box 1653, Moose Jaw, SK S6H 7K7.  Arrangements are entrusted to Moose Jaw Funeral Home, 268 Mulberry Lane.  Cara Ashworth – Intern Funeral Director 306-693-4550