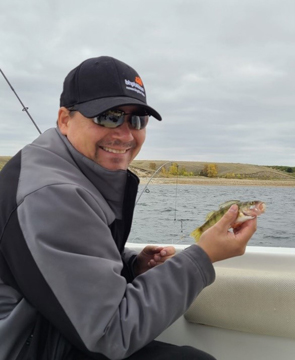 (September 21, 1970- March 9, 2022)
It is with great sadness we announce the loss of our Tony-Jo Chan.  Tony-Jo entered the presence of the Lord on March 9, 2022.
Tony was so loved and a blessing to his family: Tony's parents Joe and Shirley Chan; sister, Donna (Dom) Bucsis – Janna, Jody;  brother, Kevin Chan – Jakob, Meagan; brother, Kolby (Jolene) Chan – Kieran, Maliyah, Maddox, Linkon; sister, Nicole (Jamie) Simpson – Joey, Elliette.  Tony also loved his Wingenbach, McCrady and Chan aunts, uncles and cousins.  Tony valued his friends including Brent (Shelly) Evans, Steve (Shawna) Pollock, Lisa Lee – Jessica, Miranda, Tessie, and Dustin (Paulina) and countless others.
Tony was born on September 21, 1970, in Winnipeg, MB and raised in Moose Jaw, SK. He excelled in all sports including hockey, football, golf, hunting and he was an excellent motorcycle rider. He raced dirt bikes together with his dad and brothers Kolby and Kevin, and went on many bike trips with his dad, uncles, brothers and friends.  After high school, Tony completed his degree at the University of Regina with a major in English Literature, became an Interprovincial Journeyman Steamfitter, and was endorsed and respected as a Principal Project Controls Cost Specialist in Construction Management.  
Early in his life, Tony gave his life to the Lord, and when called, went to serve on mission trips in Mexico City, Egypt, and Vietnam. For Tony-Jo, faith was an essential part of his life, and he had an unwavering commitment to serve God. Through word, deed, and by example, he was a disciple for Christ.  With heavy hearts, we announce Tony-Jo passed peacefully in the presence of God and his parents. He will forever live in our hearts, and we are comforted to know He is with Jesus.
Flowers are gratefully declined, and lieu of flowers donations in Tony-Jo's name can be made to the Canadian Cancer Society 1910 McIntyre St Regina, SK S4P 2R3.
A Memorial Service will be held on Saturday, May 28th, 2022 at 1:00 p.m. in Moose Jaw Funeral Home.  Those unable to attend are able to view the service virtually by going to www.moosejawfuneralhome.com/webcast/.
Arrangements are entrusted to Moose Jaw Funeral Home, 268 Mulberry Lane.  Michelle Ellis, Funeral Director 306-693-4550