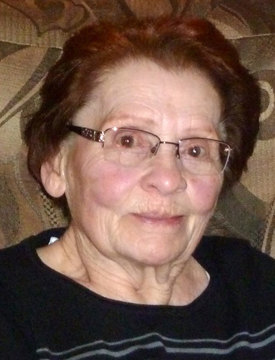 STELLA CAMPBELL (née: Kyrylchuk)
It is with sadness that we say goodbye to our mother, grandmother, great-grandmother, sister and friend, Stella Campbell.  Stella passed away on Saturday, August 13th, 2022 at the age of 94 years.
Stella was born in Zbaraz, Manitoba and grew up in Tribune, Saskatchewan.  She was one of eight children of European immigrants and has been predeceased by five of her siblings.
Stella received her Psychiatric Nurse's training in Weyburn Mental Hospital.  It was here she met her husband Gordon.  They married and moved to Moose Jaw, Saskatchewan.  Stella began her work in the Valley View Center in 1955, rising to a supervisory position and rotating to several different wards.  Gordon passed away in 1971.  Stella continued working and retired in 1984.  
Stella had a way with children and children related to her, perhaps because she took time to listen to what they had to say.  She was a wonderful cook.  Most memorable were her perogies and cabbage rolls.  No matter how many people showed up for dinner, Stella always had ample food.
She enjoyed playing cards and participated in many whist drives.  More recently, she had a group of ladies with whom she routinely played "Bonko".  She loved going to the Casino and always hoped to win the jackpot.  
Stella was an avid sports fan who enjoyed bowling, curling and accompanying her children to baseball games.  In her later years she never missed watching curling and baseball on television.
During her time at West Park Crossing, Stella joined in many of the activities they provided – exercise classes, bingo, carpet bowling, horseshoes and bus trips.
A very special thank you to the staff and physicians of the Dr. F.H. Wigmore Regional Hospital.  During the last few months, Mom has had several admissions to the hospital and the care has been exemplary in every way.  
We would also like to thank the staff at the West Park Crossing for the care they provided to Mom during the five years she was a resident there.
Stella leaves behind her three sons: Don (Valerie), Allan, and Kevin (Sandy); daughter, Brenda (Ken); grandchildren: Shawn (Jen), Tara (Kevin), Brandon and Bradley; and great-grandchildren: Neleah, Amera, Carson and Brooklyn.
In keeping with Stella's wishes, a Private Family Interment will be held at a later date.  In lieu for flowers, the family requests that donations be made in Stella's name to the Moose Jaw Health Foundation, 55 Diefenbaker Drive, Moose Jaw, SK S6J 0C2.  Arrangements are entrusted to Moose Jaw Funeral Home, 268 Mulberry Lane.  Andrew Pratt Funeral Director 306-693-4550