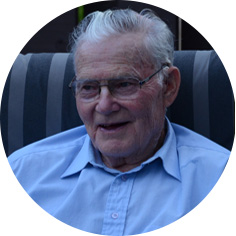 Gordon Kenneth Cameron, passed away on July 20th in Moose Jaw, surrounded by his family, at the age of 91.  
Gordon, the oldest son of Agnes and James Cameron was born on September 11, 1928 and grew up and farmed in the Briercrest Community. He was active in the community and served as Clerk of Session and Representative Elder of Knox Presbyterian Church, on numerous boards and as a councillor for the RM of Redburn for 21 years.  Gordon loved farming and was famous for the vegetables and produce that came from the family garden.  He was well known for the giant pumpkins which delighted young and old alike.  Family time was very important and he always looked forward to gatherings of extended family on the farm and the opportunity to visit and catch up.  His faith was strong and he believed Sunday was a day of rest, yet he always got the crop off. 
Gordon is survived by his wife of 65 years Jean; daughter, Sandra Cameron Evans (Jim Evans); son, Ron Cameron (Susan); his grandchildren Leah Atnikov (Izaak), Ian Cameron and Stewart Evans (Aime Nyhus); his sister Heather Duncan, sisters and brothers-in-law Joyce Cameron, Ruth and John Brooker, Bert and Susie Gordon and Leonard Kornfeld and many nieces and nephews. He was predeceased by his parents, Agnes and James, and siblings Muriel Petcoff, Alan and Ross Cameron, brothers-in-law Howard Duncan, Bud Petcoff, nephew Keith Petcoff and nieces Grace Duncan and Diane Nash.  Due to the current health restrictions in place, a Private Family Service will be held.
In lieu of flowers Memorial donations may be made to The Moose Jaw Health Foundation 55 Diefenbaker Drive, Moose Jaw, SK S6J 0C2.  The family wishes to extend their gratitude to Dr. Jan Vermaak and to the staff at Extendicare who provided Gordon with special care and support in the last months of his life.  Arrangements are entrusted to Moose Jaw Funeral Home, 268 Mulberry Lane.  Todd Sjoberg, Funeral Director 306-693-4550.