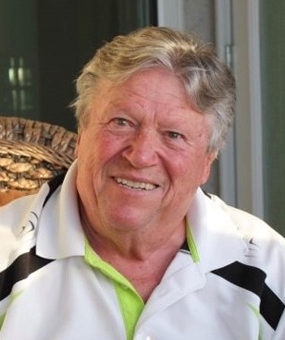 Robert
"
Bob" Gerald Calvert
We are saddened to announce the passing of Robert "Bob" Gerald Calvert, aged 74 years of Moose Jaw, SK, who passed away peacefully with his family by his side on Wednesday, December 22nd, 2021.  Bob was born in Moose Jaw, SK on May 2nd, 1947 and spent most of his life living and working here.  Bob was born a salesman.  He started selling shoes for Sterling Shoes as a teenager.  After that he began his 50+ year successful career in the newspaper industry working for such companies as Thompson, Hollinger, CanWest and lastly with Glacier and the Moose Jaw Express.  He travelled all over for work, accruing over one million miles flown, but his heart was always in Moose Jaw.
Bob married his loving wife, Jackie, in 1969 and they had two beautiful children, Jeff and Robin.  He was extremely proud of his family and a huge supporter of hockey and the arts.  He would do whatever it took to attend every hockey game, tournament, dance recital and music theatre show.  We will miss seeing him standing (never sitting) by the glass in the corner of various hockey rinks.
A die hard Montreal Canadiens fan, Bob absolutely loved hockey and loved to banter with his son, grandsons and friends.  He was a long time Moose Jaw Warriors board member and played a big role in bringing Mosaic Place to life.  He was also a supporter of The Prairie Hockey Academy, where both of his grandsons attended.
Bob was an avid golfer and a long-time Hillcrest member, and also served on their board.  He would be very upset if we didn't mention his two hole-in-ones on that course.  He loved spending time with friends and family in Florida.
Bob was extremely passionate about his work.  He was a fixture in Moose Jaw and was proud of his community.  He loved supporting local and trying to make Moose Jaw a better place.
He was predeceased by his father and mother, Joseph Calvert and Margaret Calvert; nephew, Matthew McBennett; and many aunts, uncles and cousins.  Bob is survived by his wife of 52 years, Jackie; son, Jeff (Joanne); daughter, Robin (Gabe); grandchildren: Atley, Rowan and Lilah; sister, Joanne (Jim); sister-in-law, Janice; brother, Ab (Sandra); as well as numerous nieces, nephews, cousins and friends.
A Celebration of Bob's Life will be held in the spring of 2022, date and time to be announced.  Flowers are gratefully declined.  As an expression of sympathy, donations in Bob's name may be made to the Moose Jaw Warriors Education Fund or the Canadian Cancer Society, 1910 McIntyre St, Regina, SK S4P 2R3.  Arrangements are entrusted to Moose Jaw Funeral Home, 268 Mulberry Lane.  James Murdock, Funeral Director 306-693-4550