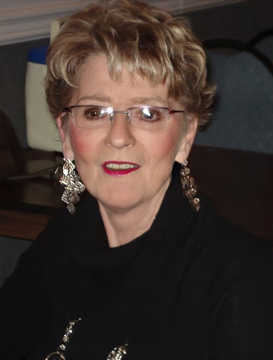 It is with great sadness that we announce the sudden passing of Carole Calvert (née: Arden) on Monday, August 22nd, 2022 at the age of 75 years. 
Carole was a long-time resident of Moose Jaw, SK.  She was born in Ottawa, Ontario to Rupert and Gladys Arden.  She lived in Ottawa and Montreal for 17 years before moving out west and settling in Saskatchewan for a number of years, and then on to Vancouver, BC to be near her mom, stepdad and brother.  She built some wonderful memories while in BC and often talked fondly of her time there.  Eventually Carole moved back to Moose Jaw and worked many different jobs over the years, including Evans Florist and Superstore.  Carole was quick to learn new skills and had a sharp mind.  She was extremely knowledgeable with plants and flowers but her greatest skills were in customer service.  She truly took an interest in knowing and loving on people, offering a kind ear and sincere advice.  She had a fabulous sense of humor and loved to laugh. 
Carole is survived by her partner of 26 years, Stu Nelson; children, Kim (Geoff) Gelinas and Joe (Abbey) Calvert; Stu's children: Kyla (Derek) Kletzel, Mandy (Kenton) Perry, and Derek Nelson; and grandchildren: Jake (Jacey) Gelinas, Bekka Gelinas, Alice Calvert, Kianna Perry, Dayan Perry, Keely Perry, Jeron Kletzel and Malea Kletzel.  Carole also leaves behind 5 brothers and sisters, and her very close friend and sister-in-law, Jackie Calvert.
Carole was a blessing to her friends and family and will be greatly missed by all who knew her.
In keeping with Carol's wishes, no Funeral Service will be held.  As an expression of sympathy, donations in Carole's name may be made to The Moose Jaw Humane Society, Box 1658 Station Main, Moose Jaw, SK S6H 7K7.  Arrangements are entrusted to Moose Jaw Funeral Home, 268 Mulberry Lane.  Michelle Ellis, Funeral Director 306-693-4550