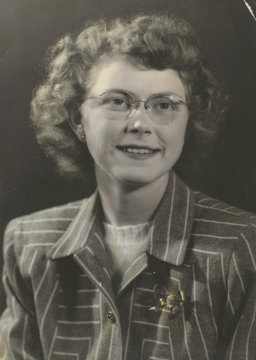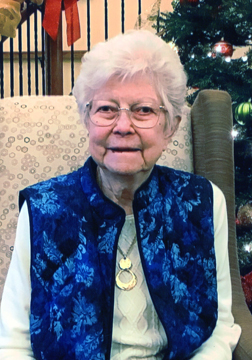 Evelyn Louise Burbank aged 97 years of Moose Jaw, SK, passed away peacefully in her sleep on Sunday, April 23rd, 2023, while in hospital with pneumonia and other complications.
She was predeceased by her parents, Allen and Pearl Murray; sister, Donna Fryklund; brother, Bruce Murray; her first husband, James Seed; and later her second husband, William Burbank.  Evelyn is survived and lovingly remembered by her daughters, Barbara (Dean) Tollefson and Catherine Seed; brother-in-law, Jack Fryklund; sister-in-law, Margaret Murray; as well as many nieces, nephews, and cousins.
Ev had a great love for dogs, horses, golf, travelling and playing cards (especially bridge & cribbage).  She enjoyed watching curling, as well as the Toronto Blue Jays and Saskatchewan Roughrider games.  In her younger years she was active with the K-ettes and K-40 clubs.  She always loved tending her garden flowers, and baking and cooking many a holiday celebration meal.
Ev was a wonderful lady with a long, full life, and will be deeply missed by all who knew her.  
The family is very grateful to the doctors, nurses, and staff of the Dr. F.H. Wigmore Regional Hospital for their dedication and compassionate care.  Also special thanks to her friends and the staff of West Park Crossing for their daily support and companionship.  
A Graveside Service will be held on Thursday, June 15th, 2023 at 2:00 p.m. at Rosedale Cemetery (but if it rains, will be held indoors at Moose Jaw Funeral Home) with a Celebration of Ev's Life to follow at Moose Jaw Funeral Home.  As an expression of sympathy, donations in Ev's name may be made to The Moose Jaw Humane Society, Box 1658 Station Main, Moose Jaw, SK S6H 7K7 or Heart and Stroke Foundation of Saskatchewan, Unit 26 – 1738 Quebec Ave, Saskatoon, SK S7K 1V9.  Arrangements are entrusted to Moose Jaw Funeral Home, 268 Mulberry Lane.  Cara Ashworth – Intern Funeral Director 306-693-4550