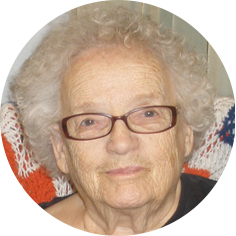 LORRAINE ELLEN BUMPHREY (née: Drake)
It is with great sadness and heavy hearts that the family announces the passing of our dear mother, grandmother, great-grandmother, and great-great grandmother.  Lorraine passed away peacefully after a hard and courageous battle with cancer at Grace Hospice in Regina, SK on Sunday, October 18th, 2020 at the age of 86 years.
She was predeceased by her loving husband of 65 years, Allan; parents, William and Chelta (née: Gettins) Drake; brothers: Bernie, Donald, Robert, Dale, Laverne and Rodney; and sisters: Shirley, Eunice, Kathleen.  Lorraine leaves to cherish her everlasting legacy, her forever loving sons: Leslie (Ellen), Leo (Joanne), Lloyd (Carol) and Lorne (Jacquie); grandchildren: Tana (Jeremy), Tobi, Toni (Rob), Todd, Darren (Beryl), Chasity (Kevin), Shawn (Cheryl), Alaine (Derek), Amber (Dwight), Chelsey (Kyle S.), Danielle (Kyle M.), Cassie (Mike), Clinton (Paulina), and Dallas (Carrie); great-grandchildren: Alyssa, Katie, Brittany, Ethan, Kristina, Megan, Matthew, Terry, Brianna, Charisma, Payton, Riley, Arlana, Tristan, Cheyenne, Brixel, Kendyll, Emily, Tyler, Brydon, Colton, Jaden, Zayden, Nixon, Leah, Becca and Jenson; great-great-grandchildren: Hunter, Cruize, Kingston, Lovina, Erika, Jerell, Hayden, Jackson, Marianna, Chloe, Sophie and Carter; sisters: Jeannette and Helen; brother, Larry; sisters-in-law, Mary (Bob) Winn and Leta; as well as by numerous nieces and nephews, close friend Kay, and all those that shared in her life.
The family would like to express their heartfelt thanks to the staff at Grace Hospice.  
The Funeral Service will be held on Wednesday, October 28th, 2020 at 1:00 p.m. at Speers Funeral Chapel in Regina, SK.  Due to restrictions relating to the current health situation, attendance at the service is by invitation.  For those that are unable to be in attendance, the service will be live streamed.  The broadcast will start 10 minutes prior to service time and can be accessed at the following link: https://video.ibm.com/embed/23838426.  A Celebration of Lorraine's Life will be held at a later date when it is safe for everyone to gather.
As an expression of sympathy, donations in Lorraine's name may be made to the Allan Blair Cancer Center c/o Pasqua Hospital, 4101 Dewdney Ave, Regina, SK S4T 7T1.  Arrangements are entrusted to Moose Jaw Funeral Home, 268 Mulberry Lane.  Andrew Pratt Funeral Director 306-693-4550