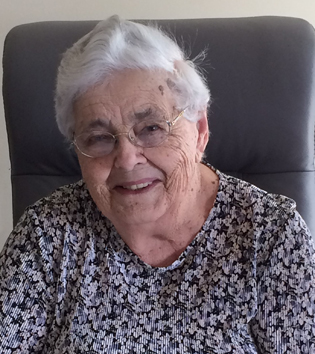 Katherine (Sadie) Bueckert, aged 95 years of Moose Jaw, Saskatchewan, peacefully went home to be with her Lord and Savior on Saturday, March 5th, 2022.
She was predeceased by her husband, Abe in 2014; parents, Bernhard and Anna Rempel; sisters, Mary Olfert and Annie Friesen; infant brother, Bernard Rempel; and grandson, Logan Bueckert.  Katherine will be lovingly remembered by her sons, David (Sharon) Bueckert of Coaldale, AB and Phil (Chris) Bueckert of Eyebrow, SK; and daughter, Susan (Larry) Wiens of Rosemary, AB; as well as her 8 grandchildren and 6 great-grandchildren.  
Katherine was born on November 24th, 1926 in the small village of Schoendorf, Ukraine.  The following fall she immigrated to Canada with her parents and sisters aboard the ship 'Empress of Scotland'.  The family arrived in Quebec and proceeded by train to Herbert, SK, just in time for harvest.  Upon completion of the harvest the family moved to Tugaske corner where they purchased their own piece of farm land called "Sunrise Farm".
Katherine attended Winfield School for 8 years.  At the age of 11 she contracted polio and spent 6 months in a body cast.  Katherine was a dedicated Christian and was baptised as a young woman, as well as attending Swift Current Bible Institute.  From Swift Current all three sisters returned home to assist their Dad on the farm, where he needed the extra help since he was also a local pastor.  On October 6th, 1954 Katherine Mom married Abe Bueckert.  Married life started on a farm south of the original Rempel homestead and soon their first child David arrived.  In 1960 Katherine and Abe moved to their brand new home by the railroad tracks at Eyebrow, SK and in the next few years welcomed children Susan and Phil. 
Katherine was always a busy farm wife.  A few years after moving to Eyebrow, they expanded their grain farm by raising 500 laying hens and began selling eggs and chickens in Eyebrow, as well as Moose Jaw.  She had a huge, bountiful garden that she generously shared with others.   She was also Abe's tireless helper and in later years also eagerly helped son Phil with anything farm related – moving equipment from one field to the next, bringing lunch out to the field (always right on time), picking stones, constructing grain bins, and driving combine, to name just a few.  Regardless of how busy she was on the farm, Katherine always had time for her 3 children.  All of her children felt their Mother's deep affection for them and in return cherished her.
Katherine enjoyed working alongside the people in her community and participated in many local events.  She took pies to Sports Days, helped at the Fall Suppers, worked in the kitchen during bonspiels, and took a lot of food to many functions.  Katherine was a faithful member of the Mennonite Church in Eyebrow and also always anticipated singing in the community Christmas and Easter Cantatas, as these were highlights for her.
In 2009, Katherine and Abe moved off the farm to The Bentley in Moose Jaw.  She found a new purpose in life when she was asked to knit headbands for a charity.  She happily contributed hundreds of them in any color of yarn she could find.  Katherine considered her healthcare workers her friends and was interested in their family lives.  Many of them felt comfortable to stop in on their breaks to put a few pieces in her current puzzle and have a chat.  The workers often commented on her skill at completing the large puzzles as she always had one in progress on her coffee table.
As her health care needs increased, Katherine moved to Westpark Crossing.  The family would like to thank everyone who helped care for her, especially the compassionate and tender care she received the past couple weeks at Pioneer Lodge.
A Celebration of Katherine's Life will be held on Monday, March 21st, 2022 at 2:00 p.m. in the Eyebrow Mennonite Church.  In lieu of flowers, the family would appreciate a donation made to Samaritan's Purse/Crisis in the Ukraine.  Arrangements are entrusted to Moose Jaw Funeral Home, 268 Mulberry Lane.  Gary McDowell, Funeral Director 306-693-4550