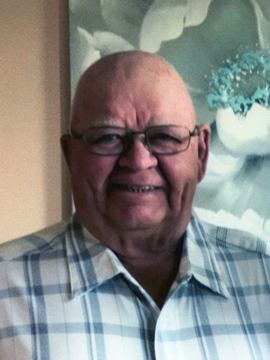 June 6th, 1939 – December 31st, 2022 
Keith Edward Budd aged 83 years of Moose Jaw, SK, passed away on Saturday, December 31st, 2022.  Keith was born in Moose Jaw, SK and was raised on the family farm North of Caron, SK.  He was predeceased by his parents, Charles (Eddie) Edward Budd and Ethel Pasey Budd (née: Grant); brother, Grant Budd; sister-in-law, Mavis Ager; brother-in-law, Murray Ager; and sister and brother-in-law, Evelyn Sandbeck (Ager) and Wally Sandbeck.  Keith is survived by his wife, Sharon Budd (née: Ager); son, Steven (Tanya) Budd; grandchildren, Drew and Nate; daughter, Michele (Bob) Mohr; grandchildren: Kiana (Johnathan), Everleigh and Olivia, Shaylee (Zachary), and Taya; sister-in-law, Pauline Budd (Milton) and their family Valerie (Kevin) Pritchard, Darla (Craig) Wutke, Charlaine (Garnett) Straker, Ryan (Stacey) Budd and Alana (Jason) Walz; brother-in-law, William (Billy) Ager and their family Scott (Kathy), Darleen and Alison (Mike); sister-in-law, Marilyn Ager (Ortman) and her family Gaylene and Sherlyn (Doug) Acton (Sandbeck).  
Keith started his career in 1960 accepting a position at TransCanada Pipelines – Station 13 in Caron, SK, working there for almost 40 years.  He worked as a heavy-duty mechanic maintaining and operating the reciprocal and centrifugal gas compressors.  Later in his career he spent his summers out on the Right-Of-Way inspecting pipeline construction, working his way up to Construction Supervisor (Chief Inspector).  This construction work took him from the Alberta/Saskatchewan border to Montreal, QC.  He retired from TransCanada in March 1999.  He really enjoyed his career and made many lifelong friendships along the way.
Keith married his wife and best friend, Sharon Ager of Petrolia, SK in 1965 (57 years of marriage) and bought an acreage North of Caron, next to Station 13.  This is where they raised their two children, Steven and Michele.  Keith was a very devoted father who was always taking time to teach his kids.  From operating farm and garden equipment, driving vehicles, maintenance and repair, he always encouraged the opportunity for his children to learn.  Keith also really enjoyed helping his brother Grant with farm work when he had time.  Keith and Sharon sold the acreage and moved to their current home in Moose Jaw in 1996. 
Keith has very many special nieces and nephews that he enjoyed spending time with.  His family had many memorable vacations together, notably Disney Land, California and New Zealand.  Keith and Sharon enjoyed vacations to Hawaii, Vancouver Island, several trips to the Maritimes, and many winter vacations to Las Vegas in the motorhome.  When he was younger, Keith liked to camp, boat and fish. 
Keith loved (some may say a compulsion) to tinker, so when Keith and Sharon moved into Moose Jaw, he bought a 1953 Ford Jubilee tractor from the neighbor on the acreage.  After retirement he tore it down in the garage to do a restoration.  After years of collecting parts for it he realized he was getting too old to do the restoration, so he donated it to the The Sukanen Ship Pioneer Village and Museum, who restored it for their collection in 2018.  He was very proud when they invited him to drive it in their annual parade.
Keith had a full life and enjoyed spending time with all his family and friends, who meant the world to him.
A Celebration of Keith's Life will be held on Thursday, January 5th, 2023 at 2:00 p.m. in the Harvey Room at Moose Jaw Funeral Home.  As an expression of sympathy, donations in Keith's name may be made to The Canadian Diabetes Association, 919B Albert St, Regina, SK S4R 2P6 or the CCU Unit at the Regina General Hospital c/o Qu'Appelle Health Region, 1440 14th Ave, Regina, SK S4P 0W5.  Arrangements are entrusted to Moose Jaw Funeral Home, 268 Mulberry Lane.  Michelle Ellis, Funeral Director 306-693-4550