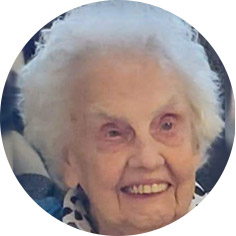 Evelyn Gertrude Buckton (née: Chatfield) took the Lord's hand and entered the Kingdom of Heaven, June 23rd, 2020 at Stensrud Lodge in Saskatoon, SK.
Evelyn was born on July 22nd, 1926 in Pleasantdale, SK.  She was predeceased by her husband Ernie(1995); brother Floyd; daughter Carol Hardman (2007); son-in-law Mike Nesvold (2004); grandchildren Renee Coney (1985) and Kelsey Buckton (2011); and great-grandson Joshua Wald (2007).
Evelyn is survived by her children: Linda (Laverne) Foley, Erna Coney, Wendy Anderson (Terry McFarlane), Bill (Connie) Buckton, Kevin Buckton, and Michele (Quintin) Buckton-Lloyd; son-in-law, Brian Hardman; as well as 23 grandchildren, 48 great-grandchildren, and 7 great-great grandchildren; and an honourable mention to Bradley Kretsch and Brei Donison.
Evelyn lived in several different communities in Saskatchewan, but for the past 26 years called T Eaton's Building in Moose Jaw her "Home".  She was baptized in the Victory Church at the age of 91 and said it was one of the happiest days of her life.
She lost her sight shortly after Ernie died and joined the CNIB, where they gave her the skills and encouragement to live on her own.  She learned to read braille and this enabled her to play cribbage and enter tournaments.
Evelyn loved hymns, campfire sing-a-longs, and in the end, played You Tube music on her google at the care home.
Her greatest love was her huge family; she liked nothing more than spending quality time with her grandchildren and their families.
Evelyn's family wants to extend their appreciation to the staff at Stensrud Lodge in Saskatoon for their kindness and compassion.
A Private Family Service will be held on Saturday, July 4th, 2020 at 1:00 p.m. in Moose Jaw Funeral Home.  Due to the Covid-19 health situation, we are restricted to just family and therefore ask that friends view the Funeral Service online on the Moose Jaw Funeral Home website at www.moosejawfuneralhome.com/webcast/.  Pastor Dan Godard will officiate and interment will take place at Elbow Cemetery.  As an expression of sympathy, donations in Evelyn's name may be made to the CNIB, 2160 Broad St, Regina, SK S4P 1Y5.  Arrangements are entrusted to Moose Jaw Funeral Home, 268 Mulberry Lane.  Gary McDowell, Funeral Director 306-693-4550