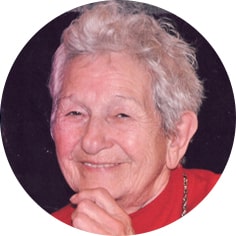 Our beautiful mother took her final breath, peacefully, and exactly where she wanted to be—at home, surrounded by her children. Louise Helen Bruse (née LaRocque) was born August 7, 1931, in Birsay, SK, the youngest of 14 children. She passed away on Friday, October 4, 2019, at the age of 88, on the Feast of St. Francis of Assisi. Mom moved to Moose Jaw as a teenager where she spent the remainder of her life. She married John Bruse in 1953 and took great pride and joy in being a wife, homemaker and mother to eight children. Mom will be fondly remembered for her witty sense of humour, easy manner and generous heart. She loved to knit, cook and bake for her family and is famous for her coveted knitted socks and slippers, her cabbage rolls and perogies, and, of course, her homemade cinnamon buns. Our mother always opened her home and her heart to the laughter and company of extended family and friends and also enjoyed the companionship of generations of family pets, particularly her faithful dog, Winston. Mom's strong Catholic faith, which she gifted to her children and exemplified on a daily basis, strengthened her in all her life's tribulations. This was especially true in her last days of life when she was enveloped in song and her favourite prayers, the Rosary and The Divine Mercy Chaplet.
Louise is predeceased by her beloved husband of 45 years, John (1998); her infant daughters, Nedra and Colette; 13 brothers and sisters; and several nieces and nephews.  She is survived by her 8 children, Jane, Laura (Gary), Paul (Andra), Delia (Norman), Norma (Michael), Clara, Lydia, Corinne (Dan); 19 grandchildren, Brynn (Erin), Jennifer (Travis), Tyler, Moirae, Jordan (Jess), Marni, John, Daniel, Monica, Ben (Bea), Ava, Brett, Jesse, Levi, Daniela, Antonio, Preston (Sara), Kelci (Luke), Keegan; and 8 great-grandchildren, Gracie, Ruby, Jameya, Vienna, Castle, Tori, Golden and Tiger. Louise was easy to love and loved easily. "If [we] know what love is, it's because of you." – Hermann Hesse
The words of St. Francis of Assisi embody the life and memory of Louise, "Remember that when you leave this earth, you can take with you nothing that you have received—only what you have given: a full heart, enriched by honest service, love, sacrifice and courage."
The Funeral Mass will be celebrated on Thursday, October 10, 2019, at 1:00 p.m. at Church of Our Lady, 566 Vaughan Street, Moose Jaw.  Interment immediately to follow at Rosedale Cemetery. Very Reverend Father Stefano Penna of Saskatoon will be the celebrant. A luncheon reception will be served in the church hall. A Prayer Service will be held on Wednesday, October 9, 2019 at 7:00 p.m. at Church of Our Lady. In lieu of flowers, donations in Louise's name may be made to SCRAPS Moose Jaw, PO Box 1653 Moose Jaw, SK S6H 7K7 or to the Church of Our Lady Building Fund, 566 Vaughan Street Moose Jaw, S6H 6L3.  Arrangements are entrusted to Moose Jaw Funeral Home, 268 Mulberry Lane. Andrew Pratt Funeral Director 306-693-4550.