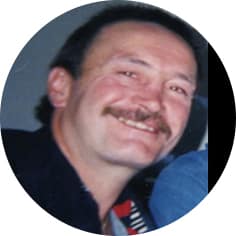 Herbert James (A.K.A. Jake, Jim, Jimmy) Brown passed away at the Moose Jaw Union Hospital on Friday, March 21, 2008 with his family by his side. Jim was born December 26, 1957 in Fort St. John, B.C. Jim along with his siblings, came to the Tugaske area to live with family in July 1958, after the passing of his mother. Throughout the years, Jim traveled between Saskatchewan and British Columbia working as a labourer. Jim was a jokester and so he thought, a master of disguise on a bicycle. He enjoyed collecting gadgets of any kind and being around friends. At times, Jim was his own worst enemy which caused him many struggles throughout his life. Even though his life was very up and down, Jim will always be remembered for his kind heart, his warm smiling eyes, his profound strength and his ear to ear grin. Jim was loved dearly by his family and many friends.
As in the words of a song, "He ain't heavy, he's my brother." Jim did get too heavy, and his sisters had to eventually let him walk on his own. He was never forgotten, no matter what path his life was leading. In the end, his family was fortunate enough to walk with him once again and to take his hand on his final journey to peace.
He is survived by his devoted and loving partner Elaine Nechiporenko, son Cary Nechiporenko, grandson Kyle Nechiporenko (all of Moose Jaw). Sisters Judy (Ron) Esmond  Bentley, Ab,  Roleau, Sk; Terri (Brian) Lerminiaux  Vibank, Sk; Karen (Greg) Gurney  Eyebrow, Sk;  numerous cousins that were like brothers and sisters, special friends Judy Taylor  Moose Jaw; Dwayne Murray  Moose Jaw, as well as many nieces, nephews and friends. Jim was predeceased by his parents Pearl Brown (Blueberry, B.C), Clifford Brown (Faulkland, B.C.), his aunts and uncles Norman and Doris Brown of Duck Lake; Royce and Willa Brown of Saskatoon. It was Jim's wish that there be no funeral service. Cremation to take place with the spreading of his ashes in B.C. at a later date.