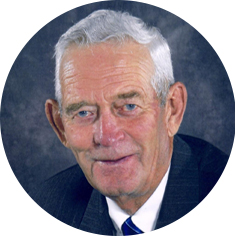 Fred (Alfred) Gerald Brown
Fred (Alfred) Gerald Brown, aged 88 years of Mulberry Estates in Moose Jaw, Saskatchewan and formerly of Central Butte, Saskatchewan, passed away at Pioneer Lodge in Moose Jaw, as the sun set on Friday, August 28th, 2020.  With bales dotting the landscape, harvest in full swing and a hint of fall in the air, our husband, dad and grandpa slipped peacefully into the Kingdom of Heaven where his daughter, and birthday twin, Kathy Schaan was waiting for him, along with scores of friends and relatives.  We are grateful for the long and healthy life that he enjoyed up until his recent health struggles this summer.
Fred is survived by Ann (née: Klassen), his loving wife of 63 years, and their children: son, Dale & Kathy Brown and their children Brendan (his other birthday twin) & Leslee Brown, Avery & Colter; Aaron & Rachel Brown; Brian & Corinne O'Neill, Maeryn, Brody & Tegan; Lana & Brent Watts, Haylie & Brynn; Brendan & Aaron's mother, Donna (Schinold) Brown; son-in-law, Garry Schaan and his children: Curtis Schaan and Trisha & Curtis Hanson; daughter, Judy & Roger Galenza; daughter, Donna Brown; daughter, Wendy & Michael Thienes and their children, Logan & Auburn.  Fred is also survived by his older sister, Leonora Unrau; younger sister, Hilda Thiessen; Ann's sisters-in-law: Mildred Klassen, Gladys Klassen, and Jean Klassen; special neighbours: Jim Marks and Floyd & Linda Johnson; as well as numerous nieces, nephews and special cousins.  
Fred (Alfred) Gerald Brown was born on March 18th, 1932, the middle child and only son to Jacob and Aganeta (Nettie) Brown, on the farm at Central Butte, Saskatchewan.  Fred completed his Grade 10 education at the one-room Grandview School in the country.  He learned how to farm at a young age and enjoyed all aspects of the mixed operation that he took over from his father, until retiring from farming in 1994.  Never one to sit still ("it's better to wear out than rust out"), Fred had a few other sidelines along the way including a telephone lineman in the rural area, Melody Makers (a DJ business together with Ann), Fred Brown's Lawn & Garden Service, maintenance for the Golden Grove low-cost housing, and Fred & Ann's Snack Shoppe.  As a young adult, Fred spent a summer in Coaldale, Alberta working with his cousins Jake & Mel in construction and that experience stuck with him a lifetime.  Raised in the Mennonite faith, Fred & Ann joined the United Church early on in their marriage and were faithful servants in the Central Butte United Church and Trinity United Church in Moose Jaw over the years.  Fred was a board member and volunteer with numerous organizations in Central Butte including the church, the school board, curling rink, Wildlife and on the planning committee for Grandview school reunions.  He was always there to support Ann in her many endeavours as well, volunteering where she needed him or looking after things at home with the kids.
Fred enjoyed people: family gatherings, visiting on coffee row, playing cards with friends, lending a hand, a tool or the shirt off his back to a neighbour in need.  He enjoyed music: listening to Mom and his daughters play or sing, dancing, and he even played a bit of accordion and banjo himself.  Fred loved games & leisure time: Sudoku puzzles, curling, fishing, camping, ladder golf (referred to as nutchuck), board games, cards & more.  Though not one to brag, he was fiercely proud of his children's accomplishments.  Fred was a devoted grandfather and enjoyed keeping up with his grandchildren and great-grandchildren's activities and accomplishments.  Fred will be remembered for his work ethic, his love of all things sweet: ice cream, marmalade, Kit-Kat bars, Roger's syrup, double-doubles, and his keen sense of humour and witty remarks which served him well until his very final days.  A kind, calm, caring, humble, loyal and patient man, his gentle presence will be forever admired and deeply missed.
Due to the current health situation, a Private Family Celebration will take place with Reverend Tim Ellis officiating.  Interment will follow at Central Butte Cemetery.  Pallbearers are Fred's grandsons: Brendan Brown, Aaron Brown, Curtis Schaan, Logan Thienes, Curtis Hanson, Brian O'Neill and Brent Watts.  Honorary Pallbearers are Fred's granddaughters: Trisha Hanson, Auburn Thienes, Lana Watts, Corinne O'Neill, Leslee Brown and Rachel Min-Brown.  A viewing of Fred's Celebration of Life will be available on Thursday, September 3rd, 2020 at 11:00 a.m. at the following link: https://www.moosejawfuneralhome.com/webcast/.  As an expression of sympathy, donations in Fred's name may be made to Heartland Hospice Moose Jaw, Box 334, Moose Jaw, SK S6H 4N9.  Arrangements are entrusted to Moose Jaw Funeral Home, 268 Mulberry Lane.  James Murdock, Funeral Director 306-693-4550