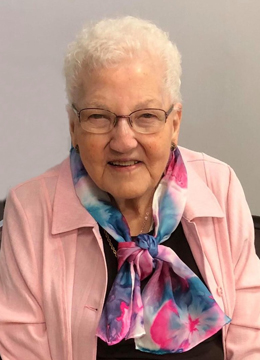 Ann (Annie) (nee: Klassen) Brown
Ann (Annie) (nee: Klassen) Brown, age 85 of Shaunavon, Saskatchewan and formerly of Moose Jaw and Central Butte, Saskatchewan, passed away at Shaunavon Hospital & Care Centre on Monday, January 2, 2023 following a very brief illness.  Surrounded by her loving children and the music of her favorite hymns, Mom left her weary body to enter the Kingdom of Heaven where God, her beloved Fred, daughter Kathy and countless family members and friends were waiting to welcome her with open arms.    
Ann is survived by her children: son, Dale & Kathy Brown of Redcliff, AB and their children: Brendan & Leslee Brown, Avery & Colter; Aaron & Rachel Brown; Brian & Corinne O'Neill, Maeryn, Brody & Tegan; Lana & Brent Watts, Haylie & Brynn; Brendan & Aaron's mother, Donna (Schinold) Brown; son-in-law, Garry Schaan (Watrous) and his children: Curtis Schaan and Trisha & Curtis Hanson; daughter Judy & Roger Galenza (Camrose, AB); daughter Donna Brown (Regina); daughter Wendy & Michael Thienes (Shaunavon) and their children, Logan & Auburn (Karter Duclos).  Ann is also survived by her sisters-in-law Mildred Klassen, Gladys Klassen and Leonora (Brown) Unrau and numerous nieces and nephews.
Ann was predeceased by her husband Fred on August 28, 2020, daughter Kathy in May 2019, her parents William (1973) and Annie (1949) and all of her siblings.
Annie (Klassen) Brown was born on August 30, 1937, the 5th of 6 children to William and Annie (Matthies) Klassen in Aberdeen, Saskatchewan.  Her Mother passed away when Ann was 12 years old, leaving her to care for her younger sister Helen and her father at a very young age.  That loss was immeasurable and played a large role during her formative years, inspiring her, at age 80, to write and publish her memoir entitled, "Goodbye Mom".  
Annie completed her Grade 12 education at Aberdeen High School and worked at the bank upon graduation.  Shortly after, Annie met Fred (Alfred) Brown and, on July 6, 1957, they were married and together raised five children on the family farm near Central Butte.  Raised in the Mennonite faith, Ann & Fred joined the United Church early on in their marriage and were faithful servants in the Central Butte United Church and Trinity United Church in Moose Jaw over the years.  In 2011, Ann & Fred retired to Moose Jaw where they enjoyed making new circles of friends at their house on Warner Street and later at Willowdale Apartments and The Mulberry.  After Fred's passing in 2020, Ann moved to Shaunavon to be close to family where she once again made new friends and shared her love of music with the community.  
She had a knack for planning and organizing.  She was savvy with technology and enjoyed working on her computer creating memory projects for her family and visiting via FaceTime.  Along with working a number of different part-time jobs and as Census Commissioner in 1991, she had a keen entrepreneurial spirit.  Ann farmed alongside Fred and they had other joint ventures including Melody Makers, a DJ business, and their much loved 'Fred & Ann's Snack Shoppe'. She volunteered tirelessly in the community for her children's activities, the Home Care Board and Agricultural Society, to name a few, and as church organist and choir director.
She will be most fondly remembered for her love of music and, even after moving to Shaunavon at age 83, she started playing for the residents at Evergreen Villa, the long term care centre and started 'Sing-a-Long with Ann' at the Grand Coteau Heritage & Cultural Centre.  The most recent sing-a-long was held on December 16 and she also shared a recorded compilation of Christmas carols with her loved ones this past Christmas.  Ann played 'by ear' as a young girl and later taught herself how to read music.  Her 'magical fingers' could master almost any tune that she heard.  She had a beautiful alto singing voice and taught her first three daughters, 'The Brown Sisters', to sing three-part harmony.  Along with music, family was her greatest love.  She was an excellent mother, and an extraordinary grandmother and great-grandmother and was anxiously anticipating the arrival of two more great-grand babies in February and March 2023.  Neighbourhood children also affectionately called her 'Grandma Ann' and all were treated to her delicious chocolate chip and monster cookies.  She was a true 'people person' who loved people of all ages, especially children, and would talk, visit with and encourage others.  She was an avid cheerleader for all of her family's activities and proud of their accomplishments.
Despite many serious health problems since 1998, and her loneliness after Dad's passing during the pandemic, Mom persevered believing that God had a reason for her to be here.  Her tired body can now rest and she can be free from those limitations and spend eternity in peace, surrounded by loved ones and the music of the heavens.
A Celebration of life will take place on Monday, January 9, 2023 at 2:00 pm at Moose Jaw Funeral Home with Pastor Marvin Seaborg officiating.  Interment to follow at a later date at Central Butte Cemetery.  For friends and family who are unable to attend, you are invited to view the celebration live by going to www.moosejawfuneralhome.com/webcast/.  Friends in Shaunavon are invited to gather at the Grand Coteau Heritage & Cultural Centre at that time to watch together.
Pallbearers are Ann's grandsons: Brendan Brown, Aaron Brown, Curtis Schaan, Logan Thienes, Curtis Hanson, Brian O'Neill and Brent Watts.  Honorary pallbearers are Ann's granddaughters Trisha Hanson, Auburn Thienes, Leslee Brown, Rachel Brown, Lana Watts and Corinne O'Neill. 
As an expression of sympathy, donations in Ann's name may be made to the Grand Coteau Heritage & Cultural Centre (payable to Town of Shaunavon Box 966 Shaunavon, SK  S0N 2M0 with a note indicating funds to be directed to the Grand Coteau Heritage & Cultural Centre for their Musical Garden project.) or to the Shaunavon Courtesy Van (payable to Shaunavon & District Community Services Society Inc. Box 385 Shaunavon, SK S0N 2M0)
Arrangements are entrusted to Moose Jaw Funeral Home, 268 Mulberry Lane.  Michelle Ellis, Funeral Director 306-693-4550