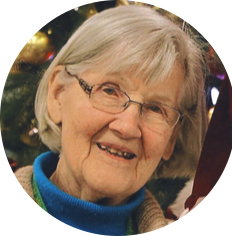 ESTHER ELENORA WILHELMINA BRODIE
June 6th, 1919 — October 17th, 2018
Esther Elenora Wilhelmina Brodie (née Henning) of Moose Jaw and formerly of Radville and Weyburn, SK peacefully passed away on Wednesday, October 17th, 2018 at Extendicare, with family by her side.  
The last surviving child of Swedish pioneer parents, Ingrid and Charlie Henning, Esther was born and grew up on the family farm south of Cedoux, SK and attended Cedoux School.  Life on the farm, plus living her informative years during the Depression, shaped the woman, wife, and mother she became. A strong work ethic, common sense, frugality, and creativity tempered by ambition and "inventiveness" helped Esther solve life's obstacles in her 99 years.  After completing her Grade 12, Esther worked near Weyburn and Brooking. Here, she met and married Neil Brodie of Brooking/Radville in 1941; together, they formed a loving and successful life and farming partnership in the Abbott district. Ellen and Brenda completed the family. Unable to pursue her dream of becoming a teacher, Esther succeeded in her dreams of having her daughters attend university and graduate with degrees in Nursing and Education.  Neil and Esther retired from farming to Weyburn in 1969. After Neil's death, Esther lived independently in her own home until 2014 when she moved to Moose Jaw (The Bentley) to be closer to Brenda.
Esther loved to be active: physically, mentally, and creatively.  Esther danced (square, ballroom, round, pattern), gardened, landscaped her lawn and yard, shovelled and blew snow into her early 90's.  A self-taught seamstress, she designed and sewed her own and her daughters' wardrobes. She also knit, crocheted, did needlepoint/petit point, quilted, made rugs, played cards and darts, and dabbled in oil painting.  Esther was involved in the community through volunteer work and membership in the Weyburn Hospital Auxiliary, UCW (Radville and Weyburn), Rebekah Lodge, and Order of Eastern Star.
Predeceased by her husband Neil (1973); her parents, Charlie (Ingrid) Henning; her siblings: Alma (Ed) Olson, Anna (Louis) Gartz, Hilda (Henry) Tranberg, Mary (in infancy), Adolphe Henning, Charlie (Holly) Henning, Doris (Vern) Jackson; in-laws, Dan (Martha) Brodie and Donna (Bruce) Cameron; and niece, Doris (Ron) Jacobson; Esther is survived by daughters, Ellen (Denis) Atkinson and Brenda Brodie; grandchildren, Kyla Atkinson and Eric (Grace) Atkinson; as well as many nieces and nephews and their families.  
The family thanks the medical team of Dr. Ramadan and nurses at Dr. F.H. Wigmore Regional Hospital for their kind and loving care during Esther's time there.  Also a warm and grateful thanks to the staff at Extendicare who made her comfortable during her last days. Cremation has taken place and interment of her cremains at Green Acres Memorial Gardens, Weyburn will be held on Saturday, November 3rd, 2018 at 3:00 p.m.  In lieu of flowers, a memorial donation in Esther's name may be made to Alzheimer Association of Saskatchewan, 2550 12th Avenue, Regina SK S4P 3X1 or Weyburn and District Hospital Foundation, Box 1416, Weyburn, SK S4H 3J9.  Arrangements are entrusted to Moose Jaw Funeral Home, 268 Mulberry Lane. James Murdock, Funeral Director 306-693-4550