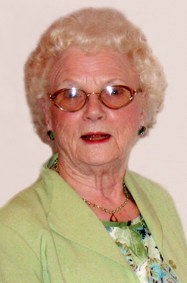 VERA BRIN (née: Davenport)
Vera Brin – War Bride, Mother, Grandmother and Great-Grandmother — passed away peacefully in Moose Jaw, SK on February 19th, 2021 at the age of 98 years.  To the end, Vera Brin was a very brave woman.  She brought to the frustration and the cruelty of dementia the same defiance with which she faced wartime blitz air raids; the crossing of an ocean to a new life in Canada; the loss of first-born infant twin sons; and the end of a marriage.
Vera took great pride in her work, whether as a teen in a bakery, or as a young woman on a wartime aircraft assembly line.  She took particular joy from her nearly 20 years working with cognitively and developmentally challenged young people and adults at the former Saskatchewan Training School in Moose Jaw and as the first employee of Cosmopolitan Industries Ltd in Saskatoon, SK.  She enjoyed relationships with other members of War Brides organizations locally in Moose Jaw, provincially and the War Brides of Canada.
Vera was a beloved mother to sons, Leon (Jolyn) of Regina, SK and Randy of Moose Jaw, SK.  She also leaves grandchildren: Jody Diakow (Dale) of Saskatoon, Danielle Brin Millar (Blair Brown) of Port Coquitlam, BC and Jared Brin of Moose Jaw; and great-grandchildren: Malcolm and Neala Brin, Erin and Megan Millar, and Nicholas and Noel Diakow.  She is also survived by sister, Sheila Rothwell of Reddish, Stockport, in England; former sisters-in-law: Kathleen (Bill) Young of Lumsden, SK, Anne Brin of Calgary, AB, Edna Brin of East Margaree, Cape Breton, and Sandra Brin of Moose Jaw, SK; as well as many nieces and nephews in Canada, England and the U.S.  Vera was predeceased by her parents, Ishmael and Nellie Davenport; brother, Ronald; and sisters, Jean Moran in England and Dorothy Snipes in South Carolina.  Vera's former husband Alfred Brin passed away in 2009.
Her family is ever grateful for the kindness and care Vera received in her later years from staff at Pioneers Lodge and Chez Nous Personal Care Home in Moose Jaw.
Due to the current COVID-19 restrictions, a Private Family Graveside Service will be held at a later date, where Vera will be laid to rest with her late infant sons, Lionel and George, at Rosedale Cemetery in Moose Jaw, SK.  Flowers are gratefully declined.  As an expression of sympathy, donations in Vera's name may be made to Moose Jaw Diversified Services, 11 Woodlilly Dr, Moose Jaw, SK S4J 1H1.  Arrangements are entrusted to Moose Jaw Funeral Home, 268 Mulberry Lane.  Todd Sjoberg, Funeral Director 306-693-4550