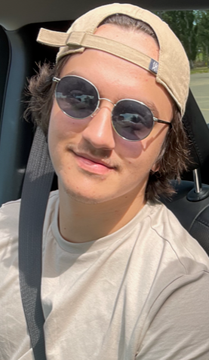 Braylen Robert Blake Breton
August 7th, 2000 – July 23, 2023
Braylen lived to make others happy. From the second he was born he did nothing but bring joy. He was the baby that never cried, the child that always listened and the young man who always helped. 
He attended Cornerstone Christian School and Palliser Heights. Braylen excelled in football. Nobody could catch him as he ran the field, effortless in his athletic ability. 
In 2015 Braylen had a horrific accident, but it wasn't yet his time. He made a swift and full recovery that was again, effortless. He survived the unsurvivable. 
Braylen went on to graduate from Riverview Collegiate in 2018. He was never meant to stay in one place but to spread his sunshine everywhere. He was happiest in the mountains and wanted no road left untraveled. He dreamed big. If he wanted it, he got it.
On Saturday July 22, 2023 his next journey began when Braylen took his life. He leaves to honour him, his parents Jason and Darla Breton, Brothers Chayden (Beth) Warford and Brody Breton. His Princess Beautiful Nice, sister Jayda, His love Kayleigh Olson and his dogs Lela and Stitch. Grandparents Bob & Irene Warford and Dwight Breton. Nephews Kingston, Kaymen, Radric and Rowan and a loyal group of friends he would have done anything for. In his last selfless and heroic act on earth, Braylen gave the gift of life through organ donation. 
A Celebration of Braylen's Life will be held on Saturday, August 5th, 2023 at 1:00 p.m. in Moose Jaw Funeral Home.  For friends and family who are unable to attend you are invited the view the service virtually by going to www.moosejawfuneralhome.com/webcast/.  In lieu of flowers, please consider your donation to https://www.gofundme.com/f/braylen-breton-7?qid=a09eb59908c2c2b96576755b7c4a64e9.  It is the wish of the family to support those in the future who will walk this path. Arrangements are entrusted to Moose Jaw Funeral Home, 268 Mulberry Lane.  Andrew Pratt, Funeral Director 306-693-4550