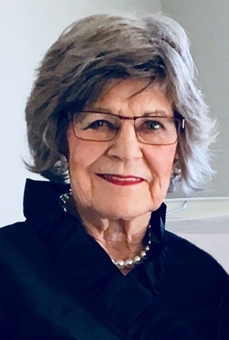 KATHY "KATHLEEN" BRAWDY 
1934-2021
Kathy's journey on earth came to an end on Thursday, May 13th, 2021 and she will be welcomed into Heaven by her grandson, Jordan. 
Kathleen Lorraine Brawdy was born on March 23rd, 1934 to Ella and John Weins.  She was the second eldest of four sisters.  Her adventures took her many places, but it was at Kedleston Church Camp where she met the love of her life, Ken, and they were married on November 28th, 1953.
Together, Kathy and Ken in Moose Jaw, SK, welcomed their first-born daughter, Karen, followed by their son, Mark, into their lives to complete their loving family.  With Ken's job, they were transferred around the prairies beginning with Westlock, AB, then to Thompson, MB, and finally to Winnipeg, MB.  It was in Winnipeg where they spent the first part of their retirement years on their meticulously groomed acreage and shared treasured moments with Mark and his family.  In 1999, Ken and Kathy returned to their home roots back in Moose Jaw, SK.  It was here that Kathy spent her time enjoying the company of her beloved friends and family, becoming actively involved in the Hillcrest Church and becoming her granddaughter's payroll clerk. 
Kathy's keen accounting skills landed her jobs throughout the years, first for the City of Thompson, MB and then at St. Charles Country Club in Winnipeg, MB.  However, her favourite job was in her retirement, volunteering in the gift shop at the Moose Jaw Union Hospital for twenty years.  
Kathy was an inspiration to all who knew her, displaying great strength and courage, living each day to the fullest even while battling cancer for seven years.  When she began to lose her eyesight, yet another challenge, she faced it with grace and faith. 
Kathy's life was well lived and well loved.  She was a devoted wife, mother, grandmother, and nana, always putting her family first.  She was virtuous, dignified, and gracious; she was beautiful inside and out. 
Kathy positively touched many lives and will forever live on in the hearts and minds of all who knew her and loved her.  Precious memories made with her will never fade away.  If Heaven had a telephone, we know she would be on it, calling everyone to check-in, and say "I love you".
Kathy leaves to cherish her memories, her husband of 67 years, Ken Brawdy; daughter and son-in-law, Karen and Lou Bookout; son and daughter-in-law, Mark and Karen Brawdy, grandchildren: Jillian, Kyle and Chayse; great-grandchildren, Gracie and Jett Jordan; sisters, Delphine and Rita; as well as many, many wonderful friends. 
A huge heartfelt thank you to all the doctors, nurses and caregivers who provided exceptional care to our wife, mom, grandma, and nana.  Your compassion and empathy will not be forgotten. 
"The best and most beautiful things in life cannot be seen or even touched – they must be felt within the heart." 
-Helen Keller
Due to Covid-19 restrictions, a Private Family Service will be held.  Friends and Family are invited to view the service virtually on Friday, May 21st, 2021 at 3:30 p.m. by going to www.moosejawfuneralhome.com/webcast/.  As an expression of sympathy, donations in Kathy's name may be made to the Moose Jaw Health Foundation, 55 Diefenbaker Drive, Moose Jaw, SK S6J 0C2.  Arrangements are entrusted to Moose Jaw Funeral Home, 268 Mulberry Lane.  Gary McDowell, Funeral Director 306-693-4550