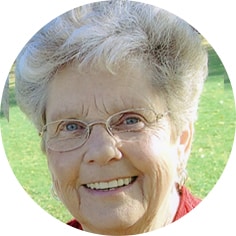 Our mom, grandmother and great-grandmother has left us to be with dad in heaven.  Alice passed away April 12, 2020.
Alice was born March 24th to Ted and Edith Barnett in the Archive district. She and her twin brother Allen were number 9 and 10 in the Barnett family. Soon after their birth the Barnett family moved back to the family homestead in the Lillestrom district south west of Moose Jaw. Alice was very proud of her large family.
Alice received her education at Ranch School and went out to work at a young age.  While working for her brother Charlie and sister-in-law Peggy on the Meili Ranch she met her future husband Bruce.
They were married in 1951 and spent the first 9 years of their marriage farming in the Mossbank district. During this time they welcomed 3 daughters to the family. Arlene, Beverley and Judy. Alice worked side by side with Bruce on the farm learning to drive and to do any chore that needed to be done.
In 1960 they moved to Moose Jaw. 1965 they welcomed their son Jim.
Alice was always busy cleaning house, cooking, working in her garden and looking after her kids. Alice believed in keeping her kids busy. There were always windows to clean, weeds to pick, and other chores to do. She also believed fresh air was a must. When kids got underfoot it was "go outside and get the stink blown off".
Alice will be remembered for bread making days. Her cinnamon buns, bread, buns and deep fried dough for lunch were the BEST.
Alice always took pride in putting on a good meal.  With little in the cupboard she could make a feast.
Alive very much enjoyed her many years working at Moose Jaw Union Hospital.  She always spoke very highly of her fellow staff members and felt a special fulfillment helping her patients.
In later years, when Alice had more time she became an excellent gardener. Her yard on Prince Crescent was worthy of a red ribbon for beauty.
Alice was very accomplished at knitting and crocheting.
She took great pride in family, home and her garden.
Alice is pre-deceased by her husband Bruce, parents Ted and Edith Barnett, siblings and their spouses, Philip, Dorothy (Ben), Bill (Patsy), John (Eva), Eddie (Jim), Charlie, Leo (Jean), Phyllis (Scotty).  She is survived by her twin brother Allan (Sherry) and sister-in- law Peggy.
She leaves her 4 children to morn her passing: Arlene (Les) children Chris (Anne); Wendy (Mark) their children Owen, Lucas, Kale, Blake; Bev (Randy) children Neil, his children Kelci and Halle (Tanner); Kent (Andrea) their children Bryce (Lindsay), Marlee and Quinn; Judy; Jim (Lenore) their children Mandi-Lynn (Justin) their children Octavia and Electra. Krystal (Steve) and son Matheson.  Katie, Roger.
Private Interment will take place at Rosedale Cemetery, Moose Jaw, SK.  A Memorial Service to honour Alice will be announced at a later date.
Thank-you to Pioneer Lodge staff for all the loving care they gave to our mother. Your kindness and thoughtfulness will not be forgotten.  Arrangements are entrusted to Moose Jaw Funeral Home, 268 Mulberry Lane. James Murdock, Funeral Director 306-693-4550