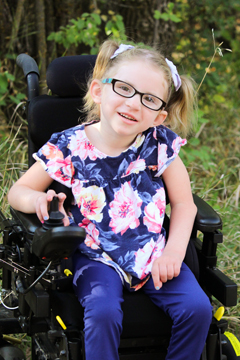 June 1st, 2016- August 16th, 2022
Maren loved to be at Grammy and Popsie's lake house, so it was fitting that is where she succumbed to her disease.  After a courageous and fierce battle, our little warrior, Maren passed away peacefully on Tuesday, August 16th, 2022, surrounded by her family.
Maren was a cherished daughter and little sister.  She was everyone's best friend and had an ability to see the good in everyone. She attended Sunningdale Elementary School, was a proud Spark, adored her horse lessons, and loved to go camping every summer.  She was known by everyone, whether it be cruising with her power chair in the halls at school, or around the rink, wearing her contagious grin.  Maren's light and deep love for all things were felt by everyone (and every dog) who met her, and her impact will live on for much longer than her time here on earth.  She taught us to live every day to the fullest, focus on the good, and to keep moving forward, even if things were difficult.
Maren will be deeply missed by her sister, Ada; parents, Scott and Cathy Bradford (née: Daly); grandparents: Kelvin and Lori Bradford, Murray Daly, and Virginia and Jack Altrogge; Uncle Logan and Auntie Phuong Bradford, Auntie Amanda and Uncle Deloy Weiers, Auntie Becky and Uncle Rob Levy; cousins: Thomas, Raina, Nash, Wyatt and Riggs; a large extended family; so many friends who were like family; as well as a whole community she touched with her light.  
She has always been an angel, and now she runs and dances in the heavens, able-bodied and strong.  Maren will continue to lead us through, with so much love and light, forevermore.
Though she be little, she was mighty.
A Celebration of Maren's Life will be held on Friday, August 26th, 2022 at 1:00 p.m. at the Hildebrand Chapel in Caronport, SK.  Please wear blue, as that was Maren's favourite colour.  Those not able to attend may view the service virtually by going to https://youtu.be/dPB416oHVJc.  Following the service, the celebration will continue at the Wakamow Valley Oval in Moose Jaw.  Maren taught us to celebrate every day, so we will honour her soul with lots of kids playing and laughing.  In lieu of flowers, please consider making a donations in Maren's name to a Children's Hospital in your area, or any animal rescue or shelter.  Her love of all animals and babies will live on with her legacy.  Arrangements are entrusted to Moose Jaw Funeral Home, 268 Mulberry Lane.  Michelle Ellis, Funeral Director 306-693-4550