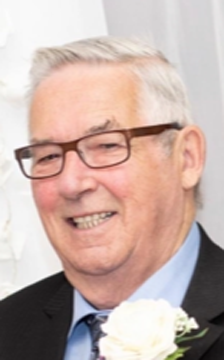 Roger Rene Bouvier was born in Gravelbourg, SK February 10, 1946 and passed away peacefully December 21, 2022 with Carolyn and Ashley at his side. Roger had a short battle with lung cancer. Roger was predeceased by his beloved son Carman, parents Leo W, Germaine (Smith), Brothers Arthur and Joseph and nephew Russell. Roger is survived by his loving Daughter Carolyn Bitz (Corey)& Granddaughter Ashley (Mike), daughter-in-law Lisa, Grandsons Ryan and Justin and Great Grandchildren Vada, Hayden, Alaska, Jupiter, Bam, Otto, Siblings Paul, Paulette, Don and many nieces and nephews of whom he cherished. 
Roger attended school in Glenbain, SK and enjoyed sports growing up especially hockey. In 1962 Roger began farming, he married Linda (Vervalcke) on July 7, 1965 and later had two children Carman and Carolyn. 
Roger had many good times with friends that included, New Years Parties, Grey Cups, Snowmobile derbys, road trips and many card games. 
Roger had many careers during his life which included farming, backhoe operating, managing the Red Rooster in Kincaid with Linda, R&R Bale Hauling, Owner-Operator of Roger General Insurance, custom combining, car salesman and hail adjuster. 
Roger sold his farmland and retired at the young age of 52 and relocated to Moose Jaw, he then decided to come out of retirement when he purchased the Claridon Hotel in Gull Lake, SK.  Roger was forced into retirement due to a fire and moved back to Moose Jaw where he spent the rest of his life. 
Roger spent his retirement on the phone chatting with friends, cruising with his sister, going to Verobas for breakfast and spending time with his family and even made a motorcycle trip to Sturgis. 
Roger will be remembered for his quick whit, offside humour and eagerness for a good time. A Funeral Service for Roger will be held on Friday, December 30, 2022 at 1:00 p.m. in Moose Jaw Funeral Home with Celebrant Dave Foley officiating.  For friends and family who are unable to attend you are invited to view the service virtually by going to www.moosejawfuneralhome.com/webcast/.  In lieu of flowers, donation in Roger's name may be made to the Kincaid and District Health Centre Board Inc. Box 11 Kincaid, SK, S0H 2J0 (KincaidHCB@gmail.com)
Arrangements are entrusted to Moose Jaw Funeral Home, 268 Mulberry Lane.  Gary McDowell, Funeral Director 306-693-4550