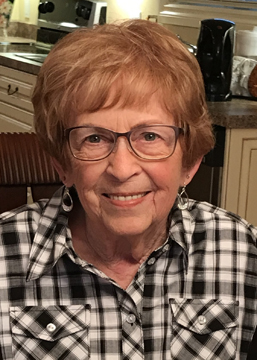 Victoria "Vicki" Marcele Bode
Our beloved wife, mother, and grandmother, Victoria "Vicki" Marcele Bode (née: Ingram) passed away peacefully on Sunday, March 26th, 2023 at the Dr. F.H. Wigmore Hospital in Moose Jaw, SK. 
Vicki was born September 3rd, 1940 in Weyburn, SK to James and Margaret Ingram.  She and her younger sister, Louise, grew up in Weyburn, SK and as a young adult, Vicki's love of travel began with a move to Hawaii for a year.  She was drawn back to the prairies and worked at the Canada Agriculture Research Centre in Swift Current, SK.  She met Frank in Swift Current, and they were married in Weyburn.  They would have celebrated their 60th anniversary this December.  They lived in Regina, SK and Winnipeg, MB before settling in Moose Jaw, where they purchased the John Deere dealership, Atkinson Equipment, which became Nelson-Bode Implts Ltd, Bode Implements Ltd, and now South Country Equipment Ltd.  Frank and Vicki built the foundation for the family business that exists today.
There were many family vacations to Hawaii over the years.  In the winter of 1991, Frank and Vicki started traveling to Palm Springs, where they would continue to enjoy the warm winters until 2020.  Vicki enjoyed lunch on the patio watching the golfers go by and loved spending the weekends shopping and taking in the sights at the Palm Springs swap meet.  
They travelled to Asia and Europe over the years.  Vicki was an avid royal-watcher; their most memorable trip was to the UK and France in 2014 for their 50th wedding anniversary.  
Back at home, Vicki served her community through the Lioness Club and her Church.  She had a wide circle of friends and enjoyed socializing over tea while playing cards.  Tuesday nights have been reserved for traveling supper club, a night off from cooking.  She took an interest in interior design, and their home has always been warm and welcoming to friends and family.
She was predeceased by her parents, James and Margaret Ingram, and infant grandson.  Left to remember Vicki with love is her husband, Frank; sons, Cam (Ceddie) and Chris (Cari); grandchildren, Alyssa and Kevin; step-grandchildren, Andrew and Lauren Markewich; sister, Louise Ingram and her son, Darren (Tracy) and their children, James and Ryan; and sister-in-law, Anne Bode.
The family would like to thank the doctors, nurses and staff at the hospital, and St. Aidan's Rev. Dr. Dean Pinter and Rev. Deacon Arleen Champion for their care and support. 
The Funeral Service will be held on Wednesday, April 5th, 2023 at 11:00 a.m. at St. Aidan Anglican Church, 124 1st Ave NE, Moose Jaw, SK.  Interment will take place at Rosedale Cemetery.  As an expression of sympathy, donations in Vicki's name may be made to Crohn's and Colitis Canada, 2110-439 University Ave, Toronto, ON M5G 1Y8 https://crohnsandcolitis.ca/.  Arrangements are entrusted to Moose Jaw Funeral Home, 268 Mulberry Lane.  Michelle Ellis, Funeral Director 306-693-4550