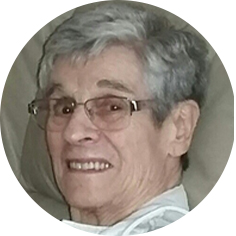 LILY ANN BLACK (formerly Dietrich, née Sinclair)
It is with much sadness we announce that our mother Lily, born December 16th, 1930 in Regina Beach, SK, passed away peacefully on Wednesday, November 16th, 2016 in Moose Jaw, SK at home with her family by her side.
Lily grew up and received her education in Regina Beach, working with her dear sister Maisie at their father's dairy.  While living in Regina Beach, Lily married Carl Dietrich, father of her daughters Elizabeth (Beth), Brenda, Donna, and Karen, and son Dean.  Lily and Carl moved to Oxbow, SK for a short time before returning to Regina Beach due to Carl's illness and passing.  Several years later, Lily married Doug Black of Regina Beach, and had another son, David, while living in Moose Jaw.  The family moved to Briercrest, SK where Lily and Doug spent many years farming, raising children, and being active in community life.  Lily particularly enjoyed working with the UCW and being a Lioness.  After Doug's passing, Lily continued to live in Briercrest for several years before moving to the Bentley in Moose Jaw, where she made many new friends.
Lily was in her element when playing a game or sharing a laugh with friends and family.  She had a great sense of humour and a keen competitive streak.  She pursued interests in golf, curling, bridge tournaments, bingo, ceramics, sewing, and school activities.  Lily was known for her abundant, distinctive cooking and baking, whether it was for a special family occasion or a meal in the field at harvest time.  From a young age, Lily loved animals and animals loved her.  She had a passion for travel and enjoyed many adventures in Arizona, Hawaii, Mexico, France, England, and Scotland, among others, often accompanied by her close friend Herb Kohler.
She was predeceased by her parents, William and Mary Sinclair (née McCallum); husbands, Carl Gustav Dietrich and Robert Douglas Black; sister, Maisie and brother-in-law, Ernie Haus; brother-in-law, Neil Dietrich; and son-in-law, Malcolm Tarrant.
Lily will be lovingly remembered by her daughter Elizabeth Tarrant, grandson Cory Tarrant and granddaughter Amber Tarrant, of Dauphin, MB; daughter Brenda Woodley, son-in-law Brian Woodley, and grandsons Chris and Brad Woodley, of Moose Jaw; daughter, Donna Jocelyn, son-in-law Delbert Jocelyn, and grandson Davin Jocelyn, of Moose Jaw; daughter Karen Gross and son-in-law Barry Gross of Avonlea, SK, and grandsons Kyle Gross of Didsbury, AB and Brandon Gross of Briercrest, SK; sons, Dean Dietrich of Macklin, SK and David Black of London, England; her sister Maisie's children, Judy Colhoun (née Haus) of Parksville, BC and Brian Haus of Regina Beach; sisters-in-law: Doreen Mokelky (née Dietrich) of Oxbow, SK, Edna Rintoul (née Dietrich) of Portage la Prairie, MB, Joyce Wagner (née Dietrich) and her husband Reinold of Yorkton, SK, and Joan Trytten (née Black) and her husband Eldon of Regina, SK; as well as many great-grandchildren, nephews, nieces, and other members of her extended family.
In keeping with Lily's wishes, a Private Family Service will be held at a later date. Lily's family wish to thank the Five Hills Palliative Care team for the exceptional care provided for our mom.  We would also like to thank Glen Goby for being such a good companion to Mom in recent years.  As an expression of sympathy and in lieu of flowers, donations may be made to the Five Hills Palliative Care Program c/o Five Hills Health Region, 55 Diefenbaker Drive, Moose Jaw, SK S6J 0C2 or the Moose Jaw Health Foundation, 55 Diefenbaker Drive, Moose Jaw, SK S6J 0C2 Arrangements are entrusted to Moose Jaw Funeral Home, 268 Mulberry Lane.  Todd Sjoberg, Funeral Director 306-693-4550