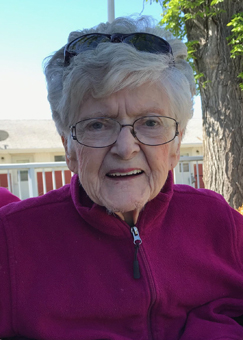 Floria Pauline Biggs (née: Beach), aged 94 years, peacefully passed away on Monday, January 17th, 2022 in Moose Jaw, SK.
Pauline was born July 24th, 1927 to her mother Floria Beach and father Palmer Beach in Ernfold, SK.  Pauline was predeceased by her husband, George Raymond Biggs of 40 years with his passing at the age of 69.  Survivors of Pauline were her children: Paula (Bill) Learmond, Marlene (Blayne) Lisk, Oralyn and Gregg (Shelley) Biggs.  Pauline had 10 grandchildren and nine great-grandchildren.  Pauline's only surviving sibling, Joy Beach (Hinther), who resides in Saskatoon. 
Pauline as a child and adult would rather be outside than inside. Her claim of being a child of the universe was truly so. She loved her flowers and all that nature entails. 
Pauline's great love was singing which she shared that gift at Zion United Church for over 40 years. She was in countless choirs, sang solos for weddings and funerals using her vast repertoire to choose music that was suitable for the occasion. Pauline formed a senior citizen's group at Zion United Church called Golden Hours for over ten years.  This group gathered and held a program for the seniors once a week. Pauline was still entertaining the seniors when she was in her eighties. Pauline's passion was music first and the highlight of her music career came when she received "The Golden Note Award" for Saskatchewan.
Pauline was a home maker her whole life. She loved decorating her home, sewing, gardening, bird watching and took up swimming later in life. She also enjoyed playing the piano and organ while singing along with the playing. Pauline also enjoyed sitting under her carport visiting with friends and neighbors.
Pauline's interest wasn't just her own children or grandchildren she was also very close to some of her many nieces and nephews. She took an interest in all of them and as a result she had a few favourites. She loved to talk and had the phone almost glued to her ear. She was a big part of all our families and had very strong opinions on politics, management of the City and pollution to Mother Earth.  
The Senior Minister Lorne Calvert at Zion United Church from 1979 to 1986 summarized the esteem Pauline was held in by family and colleagues quoting "Pauline has lifted the spirits of countless numbers of people with her wonderful soprano voice and inspired others to sing. Pauline is a passionate singer in a province of passionate song."
The family would like to thank the staff at Pioneer Lodge for the wonderful care provided to Pauline.  
A Celebration of Pauline's Life will take place at a later date.  In lieu of flowers, donations may be made to the Ernfold Community Hall, Attention Ernfold Recreation Board, Box 63, Ernfold, SK S0H 1K0.  Arrangements are entrusted to Moose Jaw Funeral Home, 268 Mulberry Lane.  Michelle Ellis, Funeral Director 306-693-4550