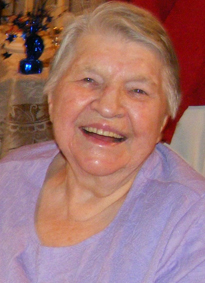 RUTH DORA BETHKE (née: Wemert)
April 10th, 1928 – March 24th, 2021
Our Ruthie passed away holding her daughter's hand in the early hours of Wednesday, March 24th, 2021 at the Dr. F.H. Wigmore Regional Hospital.  She was born in a "shack" in the Courval/Palmer district, the middle daughter of Joe Wemert and Anna (Wuschke) Wemert.  There was a move to another small "house" north of where she was born, which came to be known as the West Place.  In the 40's, they moved to the Sonstelie homestead bordering the south of Old Wives Lake and north of Mossbank. 
Ruth married Edwin Bethke on October 10th, 1953 and they resided on the farm with her parents.  Carol was born in 1954 and Diana in 1957.  In 1968 they bought their own farm, the "Fred Wuschke Place", a few miles west from the lake.  There she continued her life of very hard work as a farm wife with no running water.  She milked the cows (always having a favorite milk cow), slopped the pigs, and raised chickens, ducks and turkeys.  She was also involved in the butchering and sausage making, and sold cream and eggs so she would have her own money to buy things for "her girls".  She was also active with gardening, canning, baking (including the best buns ever!), driving truck, combining and handling any other farm task.  Ruth faced many challenges in her long life but faced them with a positive attitude and her sunny smile.  
She was predeceased by her husband, Edwin in 1978; daughter, Carol Mardell in 2005; aunt, Lena Wuschke, older sister, Trouty Nagel; younger sister, Lillian; brothers-in-law, Arnie Nagel and Allen Smith; and nephews, Alfred and Irwin Nagel.  Ruth leaves to mourn: her youngest daughter, Diana (Don McPherson); grandchildren, Alicia and Jarett Mardell; son-in-law, Lawrence Mardell; Don's children, Sheri (Sheldon) Tangan and Chad McPherson; was Gramma Ruth to: Zak, Matt and Alec Tangan, and Jordan and Jaicee McPherson; her "Nagel" nieces and nephews: Teddy, Ella (George) Petrisor, Shirley (Glen) Emmons, Alvin (Wendy), Elden, Thyra (Irwin – deceased) and Margaret (Alfred – deceased); her "Smith" nieces and nephews: Twyla (Wayne) Sirovyak, Lorna (Jeff) Barber, Debbie (Dale) Santa, Dwaine (Heather), and Joey (Sandy); as well as numerous great and great-great nieces and nephews.
Due to Covid-19 restrictions, a Private Family Service will be held.  Interment will take place next to her husband at St. Mathews Country Cemetery near the farm at Mossbank, SK with Pastor Marvin Seaborg officiating.  Friends and Family are invited to view the service virtually on Thursday, April 1st, 2021 at 1:00 p.m. by going to www.moosejawfuneralhome.com/webcast/.  In lieu of flowers, donations in Ruth's name may be made to St. Mathews Cemetery c/o Jane Singbeil, PO Box 393, Mossbank, SK S0H 3G0.  Arrangements are entrusted to Moose Jaw Funeral Home, 268 Mulberry Lane.  Todd Sjoberg, Funeral Director 306-693-4550